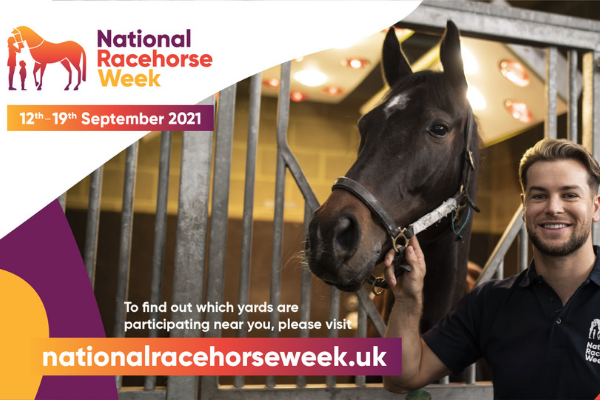 TV star Chris Hughes launches National Racehorse Week to celebrate the nation's racehorses
Wednesday, 14 July 2021
TV star and ITV racing presenter Chris Hughes has today launched the UK's first ever National Racehorse Week which will run later this year from 12th -19th September. The week, part funded by the Racing Foundation, will celebrate the nation's racehorses and will see trainers across the country open their yards to the public so that they can witness first-hand the care, love and attention that goes into looking after racehorses and the fantastic lives that these magnificent animals lead.
The first of its kind, National Racehorse Week will see over 100 trainers from across the country open the doors to their yards in a nationwide celebration of the racehorse and will include existing open days at some of British racing's most important training centres including the Malton and Epsom Open days on the opening weekend (12th September) and the Henry Cecil Open Weekend in Newmarket (18-19th September).
Chris Hughes, who himself often rides racehorses at trainer Jonjo O'Neill's yard and frequently features his favourite horse, Annie Mc, on his social media channels said, "As someone who loves racing, I'm so excited that everyone will have the chance to go behind the scenes at a racing yard near them and see the wonderful care that horses receive. Racehorses are like family to the people that look after them every single day of the year and it will be brilliant for members of the public to meet their local equine stars, find out how they are looked after, chat to staff and see various different elements of a horse's training regime – from being out on the gallops, to seeing the physio and even taking a dip in an equine swimming pool!"
You can see a video of Chris previewing the kinds of things that you could see at an open day here.
To find out which yards are open in your area there is a postcode search on the website that will direct you to the activity closest to your home. Please visit www.nationalracehorseweek.uk to book your free place.