Pro-active Funding Initiatives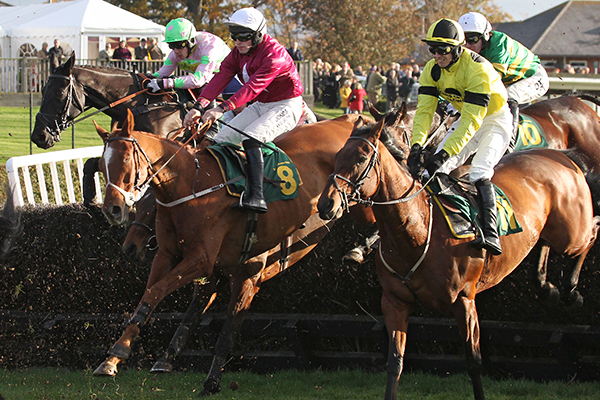 In addition to offering an open grants programme, the Racing Foundation is also working with charities and industry stakeholders to develop and support three collaborative initiatives to support improvement and growth within racing and consider the health and welfare of its participants.
£1m over 4 years has been pledged to each of the following:
Providing a co-ordinated career development and learning programme for racing's people.
Developing a co-ordinated injury rehabilitation service for all of racing's people across the UK.
Developing a co-ordinated approach towards equine welfare provision for the Thoroughbred breeding and racing industry.
For these collaborative initiatives, direct approaches are made by the Foundation and charities will only be able to apply for funding if they have been invited to do so.
The most advanced of these initiatives is the career development and learning programme, known as the Personal Development Programmme (PDP). The whole £1m has been allocated for activities and projects being delivered as part of the PDP and further updates can be seen, below.
The other initiatives are in the early stages of development and delivery.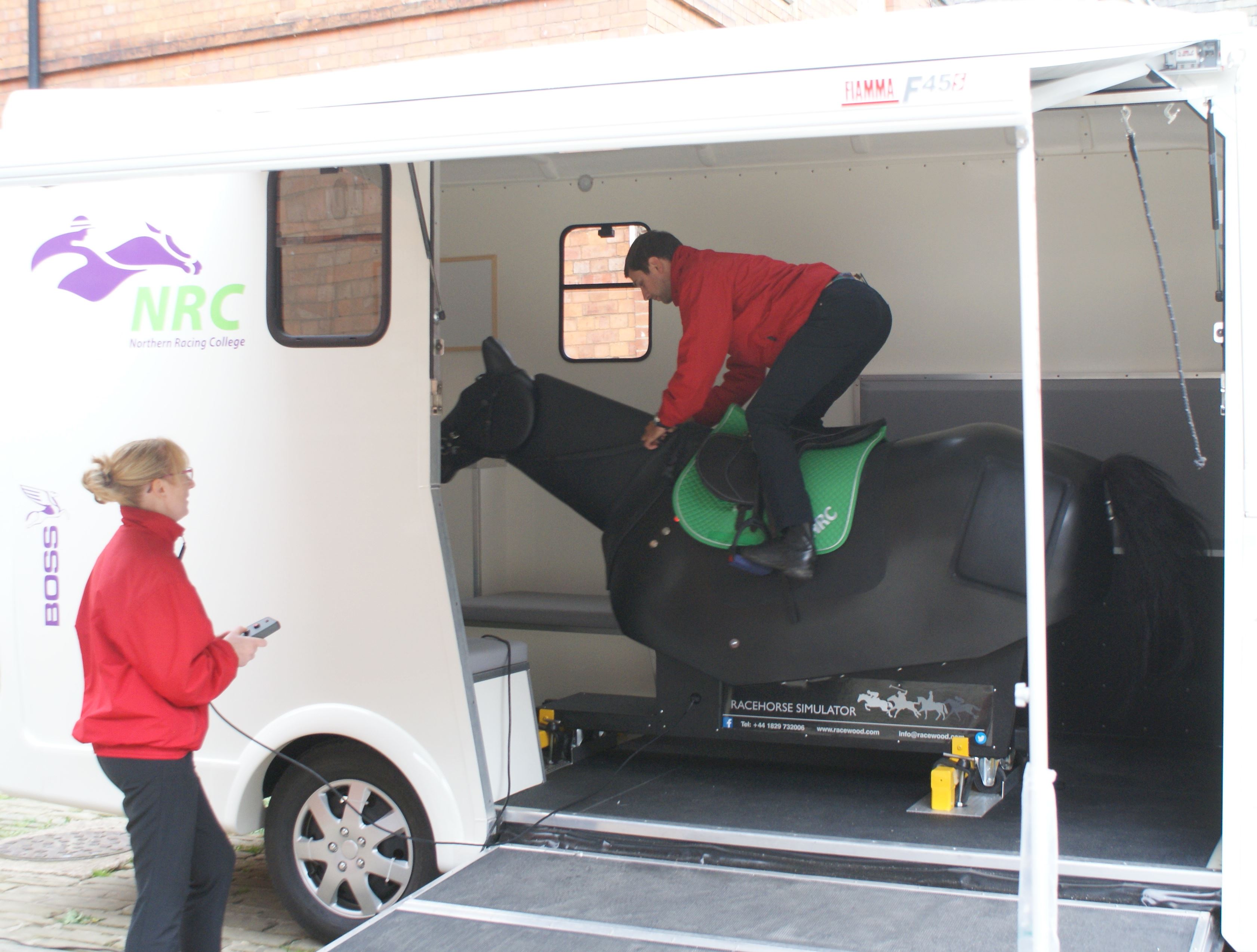 GREAT PROGRESS REPORTED IN AN INTERIM EVALUATION OF THE £1m PERSONAL DEVELOPMENT PROGRAMME
CROSS-INDUSTRY COLLABORATION
REPORT FINDINGS SEPTEMBER 2017
In 2015 the Racing Foundation announced a £1m investment in a 3-year Personal Development Programme for racing staff. It offers a direct response to previous research and evidence that highlighted staffing issues being experienced by the industry and focuses, in particular, on improving recruitment, skills, career development and retention. It represents a collaborative effort between the Racing Foundation, BHA, NTF, NASS, TBA and a number of charitable delivery partners including JETS, Racing Welfare, BRS, NRC and the National Stud.
Given the significant financial commitment, independent evaluation consultant, Public Perspectives, was commissioned to provide ongoing monitoring and assess the programme's impact. This included conducting an interim evaluation after 18 months and we are delighted to report that this evaluation is now complete and has highlighted several key outputs, including:
The national Careers Advice and Training Service (CATS) was developed and launched and there have been 1,550 visits to its knowledge base and 253 staff interactions.
The BRS and NRC designed a programme of regional in-yard work rider training and delivered it to 583 participants.
An additional mobile training vehicle was purchased to increase the remit of accessible training and recruitment activity.
The National Stud and TBA have delivered training seminars for 44 stud workers.
JETS has developed and implemented a personal development plan for jockeys, focusing on those at the start of their career, which included 37 seminars; 50 1-1 sessions and 70% of claiming jockeys have now participated.
Overall, the evaluation is extremely positive, showing the programme is starting to have an impact through a co-ordinated response to address significant industry issues.
To gain a more conclusive insight into outcomes and impact the programme will continue to be monitored and reviewed over the next 18 months to help shape its further development and to consider future sustainability.

CAREERS ADVICE AND TRAINING SERVICE
DELIVERED BY RACING WELFARE
LAUNCHED JANUARY 2017
In the summer of 2016 the Racing Foundation awarded a grant of £62,350 to Racing Welfare to set-up, launch and trial a dedicated careers advisory and training service for racing's workforce. The main aim was to encourage greater take-up of career planning and training opportunities; increasing confidence, motivation and job satisfaction; addressing personal career issues before they become welfare issues and generally attempting to improve retention rates within the industry.
Support through CATS is tailored to each individual with the degree of support ranging from simply answering career-related questions or providing information, through to a series of careers coaching sessions and action planning. It includes racing careers advice; assistance with job applications and job searches; advice on CV writing, interview skills and making funding applications for training courses.
We are delighted to report that the content, framework, delivery mechanism and marketing of this service was developed throughout 2016 and it was officially launched at the beginning of 2017.
For more information on CATS click here>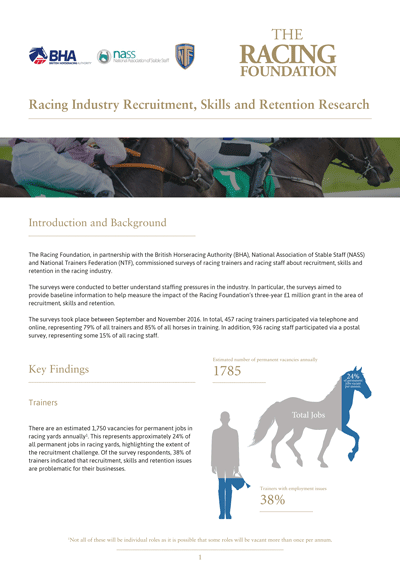 INDUSTRY RECRUITMENT, SKILLS AND RETENTION SURVEY
GATHERING BASELINE INFORMATION FOR THE PDP INITIATIVE
SEPTEMBER 2016
At the end of 2016, the industry appealed to trainers and stable staff to participate in a survey focusing on recruitment, career progression and retention of those working in racing. The main aim of the survey was to provide baseline information to help shape and evaluate the £1million PDP initiative, being funded by the Racing Foundation, to support the development and retention of racing's workforce.
The survey, endorsed by the BHA, NTF and NASS, generated a substantial response, with 457 trainers and 936 racing staff taking part, providing invaluable feedback on a range of issues.
Key findings from the survey include:
48% of permanent vacancies in the racing industry are hard to fill.
19% of trainers reported retention difficulties.
29% reported a lack of sufficiently skilled staff.
51% of trainers have not been able to fund or arrange training and development for their staff in the last 12 months.
Whilst 80% of stable staff are satisfied with their jobs, only 29% received training and development in the last 12 months and 21% stated that they are likely to consider leaving the industry within two years.
The results confirm that recruitment, skills and retention issues are having a significant impact on the racing industry, but also indicate that the programmes currently being offered and developed as part of the Racing Foundation-funded initiative are being appropriately targeted in an industry-wide attempt to address the problems. The results will provide a baseline against which progress can be monitored and impact can be measured over the coming years.
A pdf of all key findings is available here>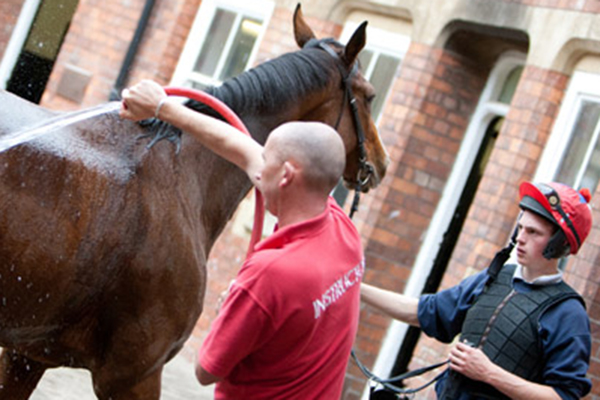 RACING FOUNDATION'S £1m PLEDGE FOR THE PDP
TO SUPPORT THE DEVELOPMENT OF RACING'S WORKFORCE AND IMPROVE RETENTION
ANNOUNCEMENT MADE AUGUST 2015
In 2015, the Trustees of the Racing Foundation announced a significant funding commitment of £1million over the next 4 years for a major new initiative focused on supporting the development of racing's workforce and improving retention within the industry.
The initiative responds to issues raised in last year's Training Yard Workforce Analysis report, which was commissioned by the British Horseracing Authority (BHA) and produced by Deloitte. The report identified that low retention rates within the racing industry, combined with stricter immigration policy and pressures on recruiting young people into the industry, could have serious implications for the supply of racing's workforce.
The Racing Foundation has since been working with the BHA to investigate how supporting the personal development of racing's workforce can help attract and retain staff within the industry. The resulting programme of activities aims to achieve the following key objectives:
More members of the workforce undertaking continuous professional development.
Higher incidence of career development among the workforce.
Improved rates of workforce retention within the racing industry.
The programme will comprise four key activities:
Enhanced Careers Marketing. This will involve a range of activities to ensure careers marketing and training support becomes more targeted and aims to develop career pathways within the racing industry.
Developing the Careers Advice and Training Service. This will build on the recent BHA and Racing Welfare pilot to make it a more comprehensive industry-wide service that ensures stable and stud staff have appropriate access to good careers advice and support.
Delivering a Personal Development Programme for Jockeys. Funding will be used to employ a Personal Development Manager to support racing's elite athletes throughout all stages of their careers.
Providing Accessible Learning and Training opportunities for stud and stable staff to encourage professional development across the whole industry. This will see the creation of a range of regional training activities which will complement existing training provision based at Doncaster and Newmarket.
The design of the programme has been co-ordinated by the BHA's People and Development team and has the full support of key industry stakeholders, including the NTF, TBA, PJA and NASS. It will witness collaboration between charitable partners who have been engaged as delivery partners, including the BRS, NRC, JETS, Racing Welfare and Wavertree Charitable Trust (National Stud).