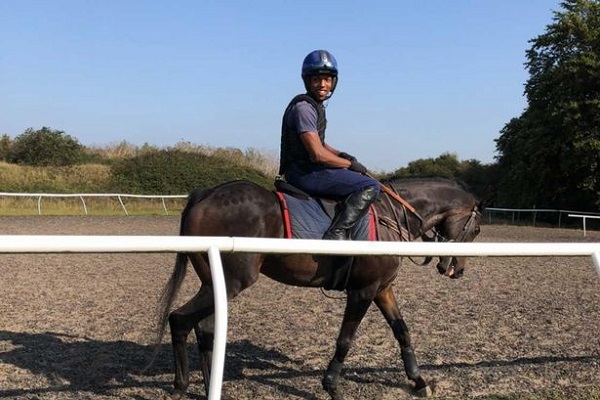 Youngster from the Urban Equestrian Academy in Leicester graduates from the BRS
Wednesday, 21 October 2020
Kanane Francis from Highfields in Leicester hopes to take the racing world by storm. Before December 2019, the 20year-old didn't know anything about horses but less than a year later he is working towards his dream of becoming a jockey.
Kanane recently graduated from the British Racing School after attending the three-month intensive Foundation Course and is now working in a racing yard with Mick Appleby.
This time last year he had no experience with horses but a Facebook post about the Urban Equestrian Academy caught his interest. He contacted the charity's founder and trainer, Tariq Zampaladus, offering to volunteer but found himself learning to ride. Tariq noticed his natural talent and provided coaching sessions before suggesting he explored the world of horseracing. Kanane was accepted on the BRS Foundation Course and graduated last month.
"Tariq has helped me a lot- I wouldn't have had this opportunity if it wasn't for him. I'm happy to be under his wing, he has opened a lot of doors for me" Kanane said.
Undertaking the three month course meant Kanane had to start each morning at 6am by cleaning out stables and two hours of riding followed by an afternoon lecture and an evening life-skills or fitness session. "I had never been away from home before so it was a different experience for me. Three weeks was hard work but I got into it once I settled into the routine," he said.
"The day I was graduated was the best feeling. I knew I'd done something life-changing".
The young rider, known on Instagram as 'The Urban Jockey' celebrated his graduation with his proud family and friends.
Kanane was recently interviewed by The Paddock and The Pavillion - to hear the podcast please click here>.
The Racing Foundation is delighted to be working with the Urban Equestrian Academy to support racing-related activities aimed at engaging with youngsters to facilitate a pathway into racing.