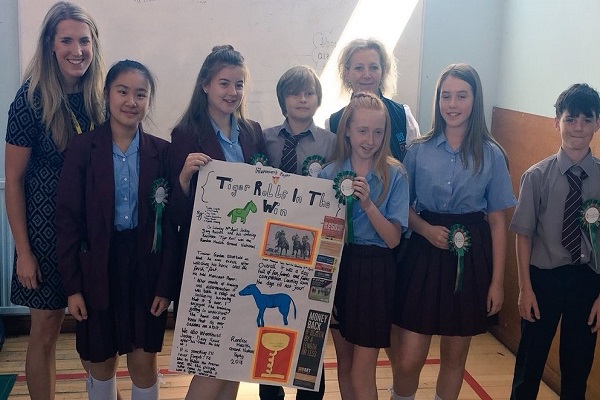 Aintree Beacon Programme enters its fifth academic year in 2020
Thursday, 2 January 2020
In early 2015, Racing to School, in partnership with Aintree Racecourse and Equestrian Centre and funded by the Racing Foundation, began a unique pilot scheme called the 'Aintree Beacon' programme. The pilot engaged 10 local primary schools and one secondary school to plan and deliver a series of educational activities that used the context of racing and the facilities of the racecourse and the equestrian centre. The programme was designed to offer a fresh learning activity to pupils from Year 5 through to Year 13. The long-term aim was that pupils in Year 5 would have annual engagement with the programme throughout their school life, to not only generate interest and knowledge in racing but also to creating pathways to employment in racing for those wishing to pursue careers in the sport.
The area around Aintree Racecourse includes Merseyside and the borough of Sefton – areas that are ranked within the lowest 20% Index of Multiple Deprivation areas in the country. Many of the children who participate in the Aintree Beacon are from deprived backgrounds, including high unemployment, education, skills, training deprivation and housing deprivation.
The pilot was well received by participants and teachers and was given a very positive endorsement within an independent evaluation. The Aintree Beacon was then incorporated into Racing to School's programme portfolio and is in 2019 is in its fourth academic year, having engaged over 2,000 students in a vital local industry. The Beacon now works with four local primary schools that are linked with the programme's one secondary school, Maricourt High School. The Racing Foundation funded the early development of the Aintree Beacon and has awarded a continuity grant to part-fund its delivery until the end of the 2020-21 academic year.
"Aintree is part of our catchment area, so they're very much part of our school community and the opportunities that are afforded by Racing to School and all the team at Aintree have been wonderful," said Head Teacher Brendan McLoughlin.
"Our pupils have been given the chance to discuss careers, opportunities to raise their aspirations but they have also been able to do subject-specific things such as maths, science and geography based around the racing industry. It has really taken them out of their normal comfort zone, put them into a practical arena and they have thoroughly enjoyed what they have been doing."
Click below for a selection of media links about the Beacon:
Careers event for Y9 pupils highlights the benefits of the Aintree Beacon programme
Top marks for Aintree Beacon programme after third year evaluation
Teacher Danielle Lawler looks forward to another successful year for the Aintree Beacon Programme