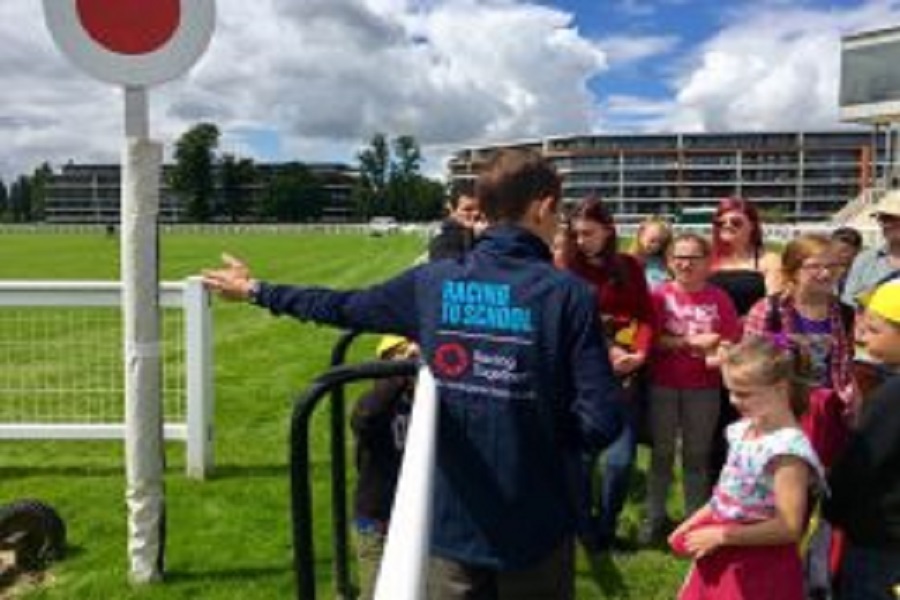 Top marks for Racing to School's Aintree Beacon Programme
Thursday, 20 September 2018
The Racing Foundation has been supporting the delivery of the Aintree Beacon Programme for three years (since inception) and we are delighted to report that year 4 of the programme is now underway following another glowing report from independent evaluator Public Perspectives.
Racing to School is working alongside Aintree Racecourse and Equestrian Centre to support pupils from Maricourt High School and its four local primary schools. The programme is designed to enrich the children's learning and offer quality activities to raise awareness of the racing industry and the range of career opportunities available. By the end of the third year this programme had engaged with over 1,900 pupils.
The Beacon was set up with the initial goal of offering long-term education and careers provision for pupils in Year 5 right through to Year 13, with participation in several activities and events. Alongside growing young people's self-confidence and core educational goals, these activities are aimed at offering practical knowledge of the horseracing industry and its career routes.
The independent evaluation report used 2,800 questionnaire responses and 25 in-depth phone interviews to provide key feedback on the effectiveness of the programme. It is very pleasing to learn that 70% of pupils reported increased confidence; 74% believed that their maths had improved and 81% said that their ability to work as a team had improved. From a racing perspective, a strong 87% reported an increased knowledge of the sport and 88% an increased awareness of careers opportunities within the industry.
Focusing specifically on careers provision, one Teacher commented: "Aintree Racecourse is a major local attraction and local employer…I now feel better equipped to speak with my pupils about it and what it an offer them…and having seen it for myself I will definitely be encouraging our young people to consider careers at the racecourse and in racing."
In conclusion, the report acknowledged:
The evaluation shows that the programme has been a success and is high quality. It has been well delivered and well received by both young people and teachers/schools. Moreover, it has had a consistent, positive and strong impact against the programme's key indicators of success over a three-year period.
We are delighted to be supporting Racing to School and have pledged ongoing funding commitment for this programme for a further 3 years.
For more information on Racing to School click here>>.