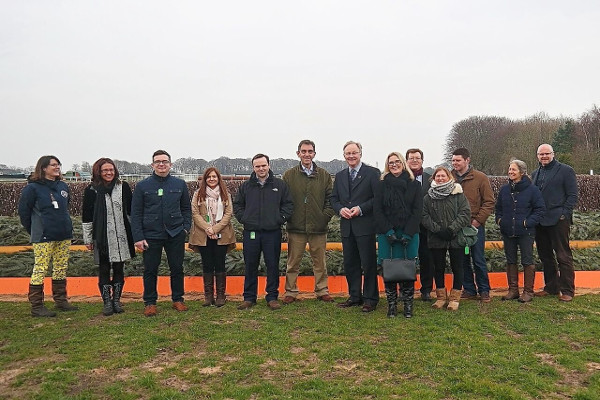 Racing Foundation scholarships still available for the Horseracing Industries MBA 2019/20 cohort
Thursday, 11 July 2019
The Racing Foundation has been funding two charity scholarship places per academic year on the Thoroughbred Horseracing Industries MBA course, being run by Liverpool University, since its inception. So far, this has included 3 cohorts, with two of them having already completed their course and achieved the MBA qualification. The third cohort are currently in their final year.
To qualify for a Racing Foundation scholarship the students have to satisfy the university's academic and admissions criteria but must also be a member of staff of a racing related charity and agree to write their final dissertation on a topic of direct relevance to their charity or to industry issues that may affect their charity.
Charities represented, to date, include Racing Welfare, British Racing School, Northern Racing College, Retraining of Racehorses and British Thoroughbred Retraining Centre.
During the first years of delivery, the MBA was run as a part-time course so that students could study alongside their employment commitments. There was overwhelming feedback to suggest that the high level of time commitment required by students and the travel to Liverpool for many of the modules, meant a number of eligible racing staff were unable to participate due to the constraints of their jobs. This was especially the case for racehorse trainers, stud/stable staff, sales staff and racecourse staff. Many of these expressed an interest in the course if its format was revised.
As a result, the Racing Foundation provided funding support for Liverpool University to explore and develop a blended learning version of the MBA and we are delighted to report that this has now been launched. This means that the number of days a student will need to attend a class in person has been reduced by 50% to 26 days during the 2-year programme and a number of online, digital options have been implemented. This new format will also now offer multiple exit points and qualifications so that a student can complete the MBA over a longer time period using credits accumulated.
The MBA course will only be offered in this new blended learning format and recruitment for the 2019/20 cohort is now open. The Racing Foundation is once again offering 2 scholarships for racing charities.
For further information and to check eligibility, please contact:
Neil Coster, Director of Studies, THIMBA
University of Liverpool Management School
Neil.Coster@liverpool.ac.uk/0781 324 7575