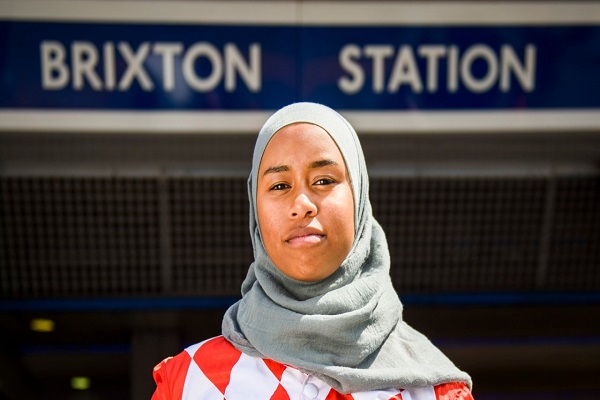 Riding a Dream documentary to be aired on ITV on Saturday 2nd November after the Rugby World Cup final
Tuesday, 29 October 2019
The Racing Foundation is delighted to have supported the production of the Riding a Dream documentary following Khadijah Mellah's amazing journey from Brixton's Ebony Horse Club to the Winner's Enclosure at Goodwood Racecourse following her winning ride in this year's Magnolia Cup. The film, produced by Oli Bell, was also supported by Great British Racing and Goodwood Racecourse. It will air on ITV this Saturday (2nd November) at 12.15pm - directly after the Rugby World Cup final.
The film shows Khadijah's determination as she juggled revising for her A-Levels and fasting during Ramadan with a gruelling fitness and training regime to prepare her for the transition from riding an inner-city club pony to a Thoroughbred racehorse in a high profile race, along side celebrities such as model Vogue Williams and Olympian Victoria Pendleton.
As part of her training Khadijah rode out at Chris Wall's yard in Newmarket and Simon Dow's stables in Epsom before attending the British Racing School, where she embarked on an intensive training regime having failed a riding test just a few weeks before the big day. Hard work and determination paid off as she caused a sensation by becoming the first female British Muslim jockey in the UK to win a race when landing the Magnolia Cup charity race on day three of the Qatar Goodwood Festival in dramatic style on board the Charlie Fellow's trained outsider, Haverland.
Her journey from South East London to one of the most famous racecourses in the world is truly inspirational but also makes a serious point about the racing industry making itself more inclusive and increasing the diversity of those with whom it engages.
Great British Racing has set up a Riding a Dream landing page specifically aimed at providing further information for anyone inspired by Khadijah's story who would like to learn more about a sport they would otherwise never have contemplated being a part of.