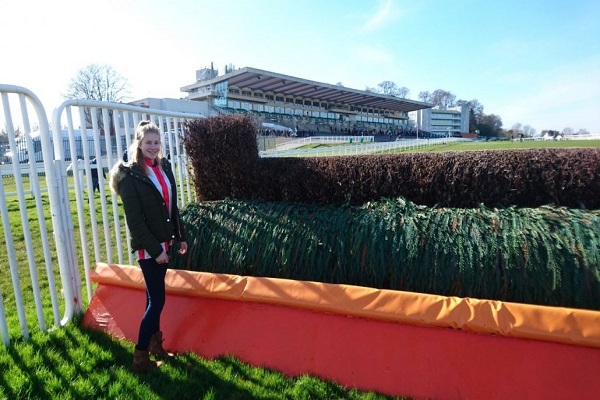 Riders' Programme graduate shortlisted for a Stud & Stable Staff award
Wednesday, 19 February 2020
In 2018, Meg Lyth was like countless other 15-year-olds facing the end of her GCSEs and unsure of what to do with her future. She loved sport and a career working in a related industry, perhaps as a PE teacher, was high on her agenda. Meg also loved horses, having ridden since she was three and was an active member of the local Pony Club on the Isle of Wight, where she lived with her parents Mark and Carole. While she was aware of racing, the idea of a possible career in the industry was not yet a consideration.
"We watched the Grand National at home every year and I always liked the idea of Pony Racing, but whenever it was planned on our small track on the island, it seemed to get cancelled," explained Meg.
It was then that the Lyths received an email from the Pony Club offering Meg the chance to attend a Racing to School event at Sandown in February 2018, as part of the Racing Foundation-funded Riders' Programme, which aims to encourage young people who already ride and/or have an interest in another equine discipline to consider racing and Thoroughbred breeding as a possible career route.
This seemed like a unique opportunity to find out more about what the racing industry could offer so Meg's parents got in touch to book a place. The event at Sandown was run by Ollie McPhail, Racing to School's Programme Manager, with support from Michelle Douglas from the BHA's Careers in Racing team. As part of the event Meg, her mother Carole and 19 other Pony Club members and parents were given a behind the scenes look at the racecourse before racing and then a chance to get fully involved in the day itself. Crucially, the programme also gave clear information and practical advice on how to progress an initial interest towards a possible career in the industry.
"Meg and Carole had a brilliant time at Sandown," explains Meg's father Mark. "They got to see so much; she even got to speak to Bryony Frost about what it's like being a jockey – when she came back that is all she wanted to do. We had been given all the information that we needed and within days we had submitted an application to the British Racing School."
Meg had her interview, was offered a place the very next day and started her nine-week course in October 2018.
Having completed her course, Meg then undertook her yard based-apprenticeship with Emma Lavelle in Marlborough and is now a full time Racing Groom at Emma's Bonita Stables. Furthermore she has recently been shortlisted for the David Nicholson Newcomers Award at the Godolphin Stud and Stable Staff Awards.
We are delighted for Meg and her story highlights exactly why, with support from the Racing Foundation, Racing to School has set up and expanded the Riders' Programme to support young people with an interest in riding and to provide them with the opportunity to explore career options and training opportunities in the horseracing industry.
In 2019 60 activity days were run as part of the programme with the aim of increasing this to 75 during 2020. The Racing Foundation funded the set-up and pilot year and has awarded further support via a multi-year award that covers delivery up to the end of the 2020-2021 academic year.