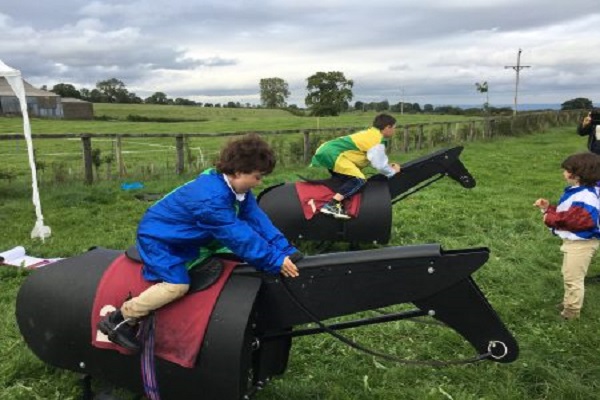 Racing to School's first Riders' Programme activities since lockdown are a huge success
Friday, 31 July 2020
Last week saw the return of the Racing to School team for the first time since March, as they visited young members of Bedale Pony Club at their camp on Oak Stile Farm in Ripon. The charity was met by 35 young riding enthusiasts, aged 5 to 11, who enjoyed a series of five different activities designed to give them an insight into the world of horseracing.

As well as getting a chance to learn race-riding techniques on the Equicizer, they also got to design their own set of silks; take part in some fitness exercises; learned about calories, while planning a jockey's diet, and finished up with a horse racing quiz to test their knowledge.

Carrie Ford, who led the Racing to School team, summed up the day: "It was really fantastic to be back in action after what was a very long time on the side lines. They were a great group, really enthusiastic and keen to learn."

The Racing to School team then went on to deliver a further 3 events in three days, to keep up the momentum, which included visits to the Pony Club camps in South Wales, Coventry and the Cotswolds.

These activities form part of the Riders' Programme, funded by the Racing Foundation, which aims to provide a wealth of information about horseracing and the opportunities it offers for those with an interest in equestrianism.