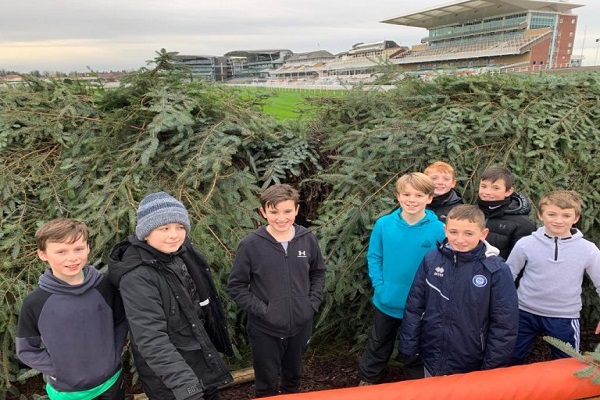 Racing to School's Aintree Beacon Programme is back on track despite restrictions
Friday, 11 December 2020
The various lockdowns and restrictions this year have impacted many education programmes, but perhaps none more so that the Aintree Beacon Programme, delivered by Racing to School. This initiative, which launched in 2015, was designed to offer a fresh learning experience to pupils from Year 5 through to Year 13, at schools close to Aintree Racecourse. The aim was that pupils in Year 5 would have annual engagement with the programme throughout their school life, to not only generate interest and knowledge in racing, but also to create pathways to employment in racing for those wishing to pursue careers in the sport. The programme is currently part funded by the Racing Foundation.
With the second half of the 2019/20 academic year a write off, and much activity planned for that Spring/Summer term, it meant a whole group of students seemed likely to miss out on the activity. Fortunately, thanks to the perseverance of the Racing to School team; the unwavering support of Aintree Racecourse and Equestrian Centre, plus the understanding of Maricourt High School staff and parents, we are delighted to report that most of the activity has now been re-arranged and delivered.
A whole new set of procedures was required, in line with government restrictions, and a great deal of hard work. Over the past few weeks, seven non-raceday trips to Aintree have been run for over 200 Year 8 students.
These trips are based around Racing to School's maths activity days, with students getting a behind-the-scenes tour of the track, including a chance to see the National fences up close – as well as a plenty of opportunities for maths-based learning. Although the non-raceday restrictions mean they don't get to see any horses, the extra space allows Equicisers to be used on course, which are very popular with the students.
Racing to School Programme Manager Carrie Ford, who leads on the programme, said: "It has felt brilliant that we have managed to re-arrange these days and definitely more than worth the effort!
"Being able to provide the children with a fun and exciting learning opportunity, yet at the same time a sense of normality, in these challenging and different times, has meant a lot. I think they have had a really positive impact on the pupils, which is reflected in their comments."
A summary of feedback from pupils can be seen on the Racing to School website.