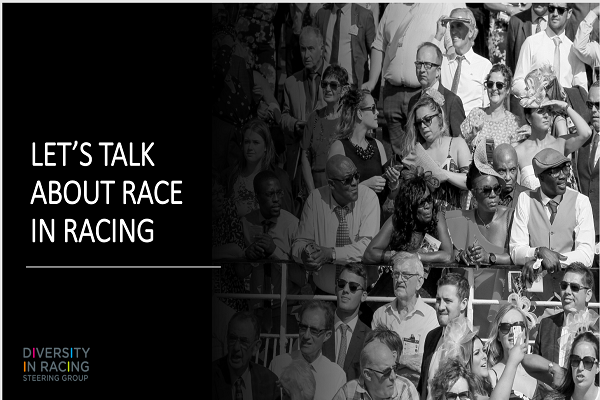 Racing industry stakeholders asked to consider diversity and inclusion issues and how to respond
Wednesday, 17 June 2020
Given the current climate, world-wide, with regards to race relations and racism and the effects being felt here in the UK, the Diversity in Racing Steering Group (DiRSG) believes this is an opportune time to remind everyone that British racing has already acknowledged that there is an issue.
The group has drafted a paper that aims to start the conversation across the sport. To raise awareness of these issues and how they relate to British racing, provoke difficult discussions, and encourage those in the sport to consider what actions they could take.
Making a difference in this specific area of diversity and inclusion is not easy. The DiRSG acknowledges there is much progress to be made and is committed to increasing its focus on this topic. It wants to support employers in racing with help and advice and to take the sport forward to be as diverse, fair and inclusive as possible.
The group is currently seeking input from across the racing and breeding industries to enable the development of further guidance and action plans. It is asking stakeholders to discuss these issues with their staff, members and boards and provide updates/feedback/opinion that can be used to provide a unified approach to progressing diversity in the sport.
To stimulate discussions the Diversity in Racing Steering Group has drafted a document that includes the following:
What is the problem?
Is racing doing enough?
Why is this important for racing?
What has racing done and what more can we do?
A framework for making a difference.
Taking action together.
The DiRSG highlights that this is not a one-time conversation - that we can all learn from and support this new wave of awareness and solidarity and acknowledge that real change requires a long-term commitment from everyone. It is hoped that the Let's Talk About Race document will raise awareness and act as a catalyst to both start, and refocus, conversations. All industry participants are asked to read the document and consider how they, employers and organisations might respond.
The Let's Talk About Race document can be downloaded here>.
To update the Diversity in Racing Steering Group on work already being undertaken or to provide further input and comment on the document or the issues it raises, please contact:
Rose Grissell, Head of Diversity and Inclusion: rgrissell@britishhorseracing.com