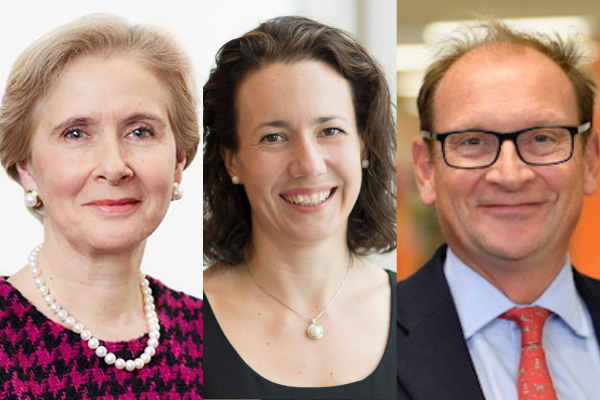 The Racing Foundation welcomes new chair and two new trustees to its board of trustees
Friday, 7 January 2022
The Racing Foundation would like to extend a warm welcome to its three new board members who joined this month.
Julia Budd takes the reins as Chair with Algy Smith-Maxwell and Alice Page starting their terms as Trustees. They join serving Trustees Linda Bowles, Susannah Gill, Louise Kemble and Mark Johnston.
The Racing Foundation prides itself on the strength of its board which is a result of the Trustees' breadth of knowledge and depth of understanding. The board will benefit greatly from Julia's vast understanding of the racing industry along with Alice and Algy's significant experience in investment management. Both these characteristics are considered crucial in overseeing the Racing Foundation endowment of £100million which the board allocates in the form of charitable grants to ensure a strong and sustainable future for the racing industry.
Julia has held several important positions in horse racing both at board and grassroots level. From her previous appointment as deputy senior steward at The Jockey Club to volunteering for Racing Welfare as part of their 'check in and chat' service, Julia's understanding of both the strengths and challenges within the industry is comprehensive.
"The issues the Racing Foundation is focusing on and cares about are the same issues which are most important to me within our industry," said Julia. "Everything they're supporting ensures that racing has a licence to operate; people, horse welfare, community engagement and environment and emerging issues which is a key focus in the new strategy."
The Racing Foundation is passionate about encouraging a joined-up approach across the industry which Julia also believes is an important aspect of its function. She added: "There can be fragmentation in the racing industry, but the Foundation is doing a good job in both bringing the stakeholders and other funders together. "It's genuinely a privilege to become Chair of a Foundation that is making an impact on the racing industry for the long term."
Responsible for the strategy, planning and governance of the world's largest wealth manager, Alice joins the board as a Trustee having also led the Philanthropy Services team at UBS.
Her experience in finance coupled with her understanding of the racing industry, developed while completing the Thoroughbred and Horseracing Industries MBA at the University of Liverpool, makes her a valuable addition to the Racing Foundation board.
"British horseracing is an industry of which we should rightly be proud," said Alice. "It is a critical part of communities up and down the country and a significant employer. "This means we are subject to cultural, political and economic changes in areas such as sustainability, diversity and inclusion and animal welfare, in addition to increased competition globally for audiences and talent."
Future-proofing the racing industry is important to Alice. She added: "The Racing Foundation has a unique role to play in supporting our sport to understand, address and adapt to these changes, securing a strong future for all involved in horseracing and bringing this amazing sport to a wider audience. "With my background in financial services and global experience, including many years living and working outside the UK, I hope to positively contribute to this ambition."
Algy joins the board with a wealth of knowledge in the financial services sector as a fund manager and co-founder of the Jupiter Merlin Portfolios. He has been involved with horses his entire life. His children are also keen equestrians. "I believe the Racing Foundation has an incredibly important role to play in helping the UK racing industry flourish for future generations," he stated. "My experience is horse racing is an institution that has the capacity to be highly successful in breaking down social barriers. This is very healthy, but we also have a large community for whom we can do more."
Possessing a deep understanding of thoroughbreds, Algy is passionate about the future of racehorse breeding. "My family have always been involved in breeding," he explained. "I love the thoroughbred horse and I believe British racing should be the envy of the world. "By joining the Racing Foundation as a Trustee, I hope to give back to a sport that has given me so much in life."
Former Chair Ian Barlow and Trustee William Rucker left the board at the end of 2021 after both served two terms in their roles. "I'd like to thank both William and Ian for their commitment, insight, support and invaluable contribution to the Foundation's work over the past six years," said Chief Executive of the Foundation Rob Hezel. "Both have been extremely generous with their time and knowledge and leave the Foundation in a stronger position than when they arrived."