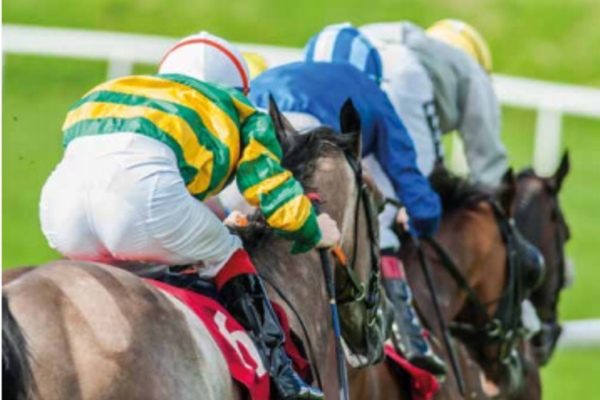 The Racing Foundation supports rapid COVID-19 testing pilot by supporting self-isolating jockeys and valets
Friday, 5 March 2021
Racecourse attendees including jockeys, valets and raceday officials will be offered routine COVID-19 testing from 8th March 2021 as part of a four week racing industry Pilot, the British Horseracing Authority (BHA) has announced.
The Pilot uses regular and repeat Lateral Flow Testing (LFT) to detect positive COVID-19 cases well in advance of raceday – with the aim of reducing the risk of transmission on course and any potential disruption to the industry.
Funded by the Horserace Betting Levy Board, the Pilot has been designed to support racing's existing infection control measures. It will seek to establish whether routine testing of higher risk individuals can help further safeguard the industry and its people against new variants of the virus during the gradual easing of lockdown.
As part of the Pilot, any jockey or valet required to self-isolate because of a positive COVID-19 test will be able to access financial support to cover loss of earnings, under a scheme funded by The Racing Foundation and administered by the Professional Jockeys Association.
Testing will be available free of charge to raceday attendees considered at highest risk of catching and spreading COVID-19 on the racecourse, including jockeys, valets, BHA officials and selected racecourse staff.
LFT offers a quick and convenient way to identify COVID-19 in people without symptoms but who are potentially at risk of infecting others. Tests can be self-administered at home in advance of raceday, with results available within 15 – 30 minutes.
Those eligible for the Pilot will be contacted directly and asked to sign-up for the racing industry's self-testing service, delivered via online video appointments by COVID-19 testing provider, Qured.
Dr Jerry Hill, the BHA's Chief Medical Adviser, said:
"Advances in testing means that it can now be delivered in a more rapid, convenient and targeted way. Rapid lateral flow testing is being used routinely in local communities and other sectors to support the easing of lockdown restrictions, detect cases early and break chains of transmission.
"By focusing testing on individuals working predominantly indoors, we can mitigate this risk and protect those most at risk of infection.
"On behalf of all involved in the Pilot, I'd like to sincerely thank the Horseracing Betting Levy Board for agreeing to fund the testing process, and The Racing Foundation for committing to a financial support package for any jockeys and valets who need to self-isolate as a result of a positive result".
David Armstrong, Chief Executive of the RCA said:
"British racing continues to seek innovative methods to safeguard our participants, workforce and racegoers from the Covid-19 virus. Our successful pilot events with spectators in 2020 demonstrate we are capable of hosting events with near-zero transmission.
"This Pilot is another step forward to protect our people, whilst providing a valuable data source for our world-class medical teams to explore the use of additional protocol to further mitigate the risk of infection".
Paul Struthers, Chief Executive of the PJA, said:
"The diligence of participants, including jockeys and valets, in following racing's protocols has resulted in no known on-course transmission of Covid. This Pilot can help establish whether pre-race testing can further improve safety on course, and we are supportive of it.
"On behalf of our members and valets, I would also to thank the Racing Foundation for once again offering support during this pandemic. Being able to offer financial support to jockeys and valets who take part in the pilot and test positive will at least provide some financial security during any period of self-isolation."
Chief Executive of The Racing Foundation, Rob Hezel, said:
"The Racing Foundation has committed to support the PJA and compensate jockeys and valets needing to self-isolate following a positive lateral flow test. Our hope is that with the security of financial support, more jockeys and valets will decide to take the voluntary test.
"To date, The Racing Foundation has granted £2 million in response to the coronavirus crisis to ease hardship within the industry. Through its charitable grant giving, The Racing Foundation remains committed to help the horse racing industry survive during the battle against coronavirus and thrive beyond it."