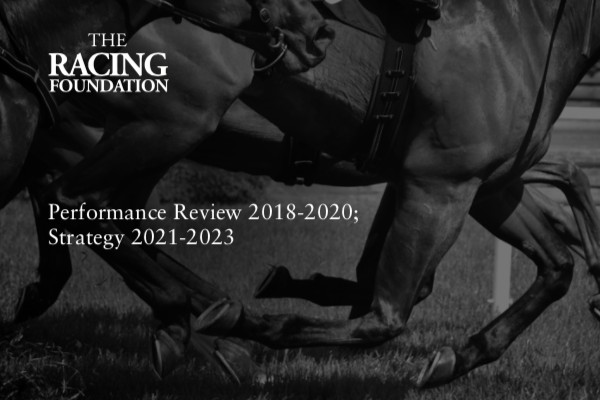 The Racing Foundation releases 2021-2023 strategy and accompanying performance review
Tuesday, 2 March 2021
We are delighted to announce our new Racing Foundation strategy which details our aspirations for the next three years. You can read the strategy in full by clicking here.
The strategy evolved through consideration of the previous three years, the challenges facing the British racing industry and our own observations and learnings. Our Trustees have overseen the strategy's development and considered the views of our Members, our Scrutiny Panel and our wider stakeholder survey results. We believe the strategy responds to the feedback we have received.
We have given over £14million in the last three years to assist the British racing industry to survive and prosper.
Funds were given strategically to improve the industry, including 4 major programmes:
£3.9m over three years was granted to Racing Welfare to improve occupational health services for racing staff;

£2.2m over five years was granted to a consortium of the PJA, JETS and IJF to improve athlete support for jockeys;

£570,000 over five years went to the TBA to create an improved training framework for stud staff; and

£904,000 over five years to the Pony Racing Authority to align their activities and increase diversity in this established jockey pipeline.
Substantial funds also went to the Scottish Racing Academy to develop new more cost-effective entry routes into racing and the Diversity in Racing Steering Group to support work to ensure British racing is a sport for everyone.
Further grants and £1.7m to respond to the coronavirus crisis led to the initial £10m funding allocation planned for the 2018 - 2020 period being exceeded by 40%.
This has resulted in the Foundation granting all the income and growth in value in excess of inflation gained since inception.
The new strategy pledges to continue the growth in funding and to work with our stakeholders on four main areas of focus; people, equine welfare, community engagement and, for the first time, environment and emerging issues.
We believe these four issues are critical for the British racing industry's future and are concentrated on its engagement with its people, its horses and its communities. They are crucial for maintaining the sport's social licence and can positively influence the sport's standing with its broad range of stakeholders at local, national and international level.
The Racing Foundation remains committed to a stronger, fairer, more diverse and more sustainable horse racing industry in the years ahead.
A copy of the full strategy document can be downloaded by clicking here.