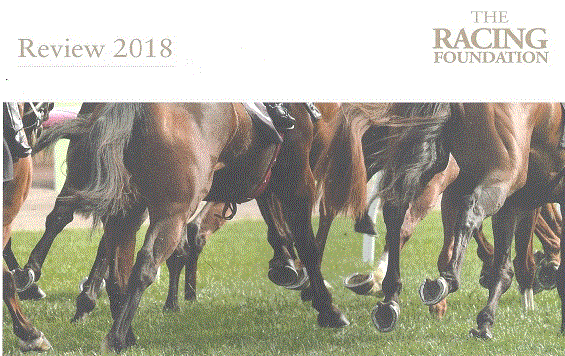 Racing Foundation publishes a Review of activity for 2018 showing progress against our new strategy
Wednesday, 5 June 2019
We are delighted to publish a Review of our activity for 2018, which shows how we reached the landmark of donating £10m, since inception and the progress we are making in delivering against the expectations of our 2018-2020 strategy. It also highlights some of the projects we have supported and the partnerships we have forged.
In particular, the Review highlights that:
35 grants totalling over £6 million were awarded during 2018, with a focus on the industry's people agenda (91% of grants). A third of these were for new projects.
April 2018 witnessed the milestone of having awarded £10 million, since inception, spread over 159 grants, which reached a significant number of beneficiaries. These included 23,000 people benefiting from education and training activities; 15,000 racing staff given support through health and wellbeing grants; 13 equine science research grants and a number of equine welfare initiatives with the potential of benefiting the entire Thoroughbred population, at all life stages.
A landmark partnership was secured with Racing Welfare, to provide £3.9 million of funding for the charity's key wellbeing services over the next three years (including occupational health, careers advice and training, mental health services and the industry's 24-hour support line).
In an attempt to attract and recruit more staff into the industry, a number of Racing Foundation funded training and education activities now focus on diversity and inclusion in racing.
Past grant awards continue to record great progress, including HEROS Racing Staff Academy, the Thoroughbred Horseracing Industries MBA programme and the Pony Racing Academies delivered nationally through a collaboration between the NRC, BRS and PRA.
We believe we have made a positive start in delivering against the expectations of our stakeholders through the first year of our new strategy as we are operating more strategically; have a narrower, more targeted focus; are more closely aligned with a number of racing charities; are speeding up funds flowing into the industry and are acting as a catalyst for improvement.
A pdf of the 2018 Review is available here> or to receive a hard copy please email tansy.challis@racingfoundation.co.uk.