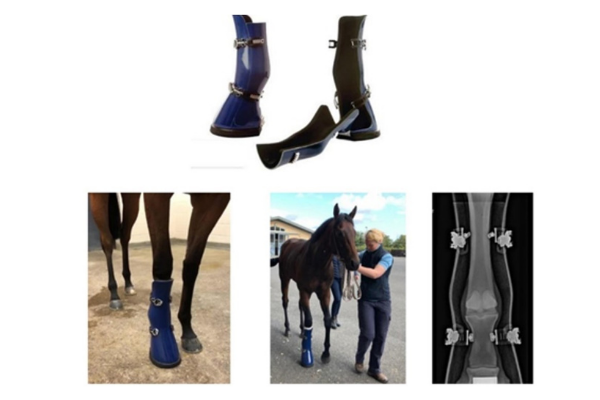 The Racing Foundation funds revolutionary equine fracture support kits for British racecourses
Monday, 22 November 2021
The Racecourse Association has led a collaborative bid to purchase and utilise new equine fracture support kits at all British Racecourses.
Funding provided by the Racing Foundation following successful bid.
Kits endorsed by the sport's independent Horse Welfare Board
The Racecourse Association (RCA) has successfully led a collaborative bid involving the National Trainers Federation (NTF) and the Association of Racecourse Veterinary Surgeons (ARVS) to the Racing Foundation which will enable the purchase and distribution of new equine fracture support kits, providing a significantly enhanced degree of comfort and chance of rehabilitation for injured horses.
A total of £229,200 was awarded by the Racing Foundation to accompany the financial contributions made by all British racecourses, the NTF and ARVS. All racecourses will receive a fracture support kit which will last up to 10 years.
The fracture support kits consist of two compression boots, two flexion (Kimzey type) splints, and a set of aluminium modular adjustable splints. The compression boots provide appropriate rigid external support for all limb fractures with the general principles that all prognoses are optimised by applying rapid and appropriate support to achieve immobility, stability, reduced pain and anxiety for the horse.
The sport's independent Horse Welfare Board has endorsed the use of the fracture support kits, describing them having the ability to 'make a significant difference to equine participants and the sport as a whole' and 'a beneficial tool for each racecourse veterinary surgeon to have at their disposal'.
The fracture support kits will be available from November 2021 across all British racecourses.
Caroline Davies, RCA Racecourse Services Director, commented: "I am pleased that our vision to continue to enhance the safety of our equine participants has been matched by the Racing Foundation with their generous award of funding for the equine fracture kits.
"Limb fractures in horses are extremely complicated and, unlike similar injuries in humans, can in some cases be untreatable. This new equipment, however, will provide the best possible chance for an injury to be properly assessed, while discomfort to the horse is significantly reduced, and give the best chance of future rehabilitation."
Rupert Arnold, NTF Chief Executive, commented: "The NTF is pleased to support the introduction of the fracture support kit across all racecourses. It represents a significant enhancement to the safety of horses on the track and improves their chance of recovery off it."
Simon Knapp, member of the independent Horse Welfare Board and ARVS, commented: "The Horse Welfare Board welcomes the new fracture support system. This system will be present on all British racecourses in the near future and should be seen as a major welfare initiative.
"The kits are easy to apply, giving immediate and effective support to injured horses resulting in rapid relief from pain and anxiety. Such an advanced support system will facilitate the transport of injured horses to centres of excellence, contributing to an improved prognosis for recovery and enhanced equine welfare and we are confident that this will be welcomed by the racing industry."
Rob Hezel, Chief Executive of the Racing Foundation, said: "The Racing Foundation believes horse welfare is crucial to the future of our sport.
"The fracture support kit has the potential to be revolutionary for the welfare of our racehorses.
"We are pleased to provide funding of £229,200 to ensure that for the next ten years, every racecourse in the country will have an equine fracture support kit at their disposal."