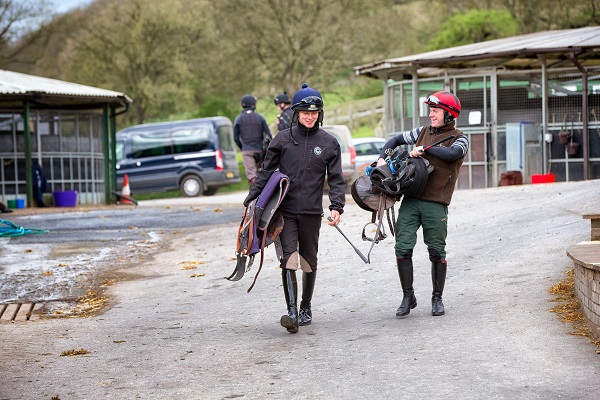 Racing Foundation funded activities tackling recruitment, skills and retention issues across racing
Wednesday, 1 May 2019
In 2016, trainers and stable staff took part in a survey focusing on recruitment, career progression and retention of those working in racing. The findings provided crucial baseline information that helped shape activities forming a major £1million initiative, being funded by the Racing Foundation, to support the development and retention of racing's workforce.
The activities, delivered through a collaboration between the British Horseracing Authority (BHA), Jockeys' Education and Training Scheme (JETS), Racing Welfare, British Racing School (BRS), Northern Racing College (NRC), the Thoroughbred Breeders Association (TBA) and The National Stud, have now been operational for 3 years so a follow-up survey has been conducted to help assess impact and further shape future provision.
The second survey, delivered at the end of 2018 by independent research organisation Public Perspectives in partnership with the NTF, NARS and BHA, has generated a substantial response, with 459 trainers and 1,228 racing staff taking part, providing invaluable feedback on a range of issues.
Key findings from the 2018 survey indicate:
40% of staff received training and development in the last 12 months (29% in 2016 – indicating a significant improvement) and 66% are satisfied with career progression opportunities (55% in 2016).
96% of Trainers and 84% of staff agree it is important for staff to engage in training and development and the majority are now more aware of initiatives being offered by the industry.
66% of Trainers feel the industry is working together effectively to address issues.
57% of trainers have either funded or arranged training or development for their staff in the last 12 months (49% in 2016 – indicating a significant improvement).
Approximately 21% of all permanent yard roles require recruitment activity annually, due to staff turnover or growth (24% in 2016).
17% of trainers reported retention difficulties (19% in 2016) and 27% reported a lack of sufficiently skilled staff (29% in 2016).
50% of permanent vacancies in the racing industry are hard to fill (48% in 2016), especially work rider roles.
The results highlight that recruitment, skills and retention issues continue to impact on the industry but that some progress has been made over the last 3 years. There are notable increases in yards providing training for their staff and there are improvements in staff perceptions around training, development and career opportunities. There have also been improvements in the awareness and use of various industry initiatives, although these changes have yet to impact on the perceptions of skills gaps and retention.
While some progress has been made, further development and delivery of activities is required to maintain momentum. It is also clear that recruitment issues remain as pertinent as ever. The programme of activities being funded by the Racing Foundation will be fully reviewed in the summer and the findings will be used to shape future provision and consider sustainable funding options to ensure long-term impact. The findings will also be considered by the industry's Recruitment, Training and Retention Programme Board, which is overseeing a number of initiatives being delivered by industry stakeholders, as part of a collaborative effort to address recruitment, training and retention issues.
The key findings from the survey are available in pdf format here>.
The full report and findings of the survey can be seen here>.
Summary findings and full report for the 2016 survey are available here>.
"The Foundation's purpose is to act as a catalyst and a funder of improvement and some of the survey findings indicate that our £1m investment is starting to have a positive effect. However, the findings also show the industry still faces recruitment and retention issues which lead to a lack of adequately skilled staff. To address this, the industry will not only have to continually review and develop the programme of activities it offers, but also implement on over-arching strategy that will addresses the key issues."
Rob Hezel CEO of the Racing Foundation
"Recruitment and retention of racing staff remains a serious challenge for trainers but the good news is that activity supported by the Racing Foundation is starting to make a difference. It is especially pleasing to see the upturn in training and development of staff and employers' acknowledgement of its importance."
Rupert Arnold, Chief Executive of the NTF
"The BHA is fully committed to ensuring that there is an impactful strategy to address the recruitment and retention issues that continue in the industry. There are encouraging messages from the research indicating that the various stakeholders are using the significant investment of money and resources to improve the range and quality of training that is relevant, accessible and improves career progression opportunities. Initiatives are in place to address the specific skills shortages highlighted in the research. The implementation of these initiatives will need continuing high levels of collaboration between the invested agencies to build on the progress made in the last three years".
Adam Green, Head of Industry Training and Retention at the BHA
"Retention and recruitment have been key words within the racing industry for some time now and it is encouraging to see the support the BHA is providing in this respect. The NTF have agreed a 40 hour working week commencing from December 1st 2018 and in recent years wages have significantly improved. NARS will continue to campaign for improvements for staff across the industry and we will continue to achieve improvements through constructive dialog with various stakeholders such as the RCA, NTF and BHA among others. Our aim is a brighter future for everyone in racing. By working together, we are better".
George McGrath, Chief Executive of NARS