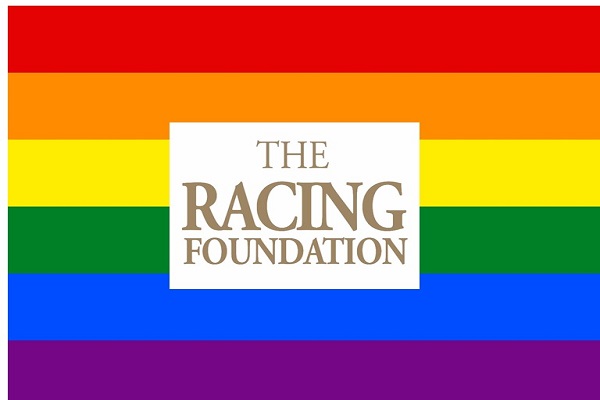 Racing Foundation is delighted to be supporting the Pride month Racing For Everyone campaign
Friday, 28 June 2019
It is important that everyone, no matter what background or characteristics, is welcomed into racing and feels that they can be themselves without fear of discrimination or harassment. It is proven that an inclusive culture leads to an engaged workforce and fanbase. This will increase productivity and deliver better outcomes for our sport.
With this in mind, racing industry stakeholders and partners are joining together to deliver the Racing For Everyone campaign #Racingwithpride on social media in support of LGBTQ+ Pride.
This campaign has been developed following recent research demonstrating that many people in racing, including jockeys, do not feel they can be open about their sexuality. Findings showed that the number of lesbian, gay, bisexual jockeys in Britain is broadly in line with that of the national population, most recently recorded at 6%, yet only one active jockey has ever publicly come out as gay, after which he claimed to lose rides from some trainers and owners. It was also shown that whilst 92% of the racing community do not hold homophobic views, there are still some incidences of homophobic language and abuse that should not be tolerated.
The Diversity in Racing Steering Group (DiRSG) is committed to creating a diverse and inclusive sport where all participants and racegoers of all communities feel welcome. The Group believes that by working more closely with leading LGBTQ+ campaigners, Stonewall, the sport can unite to make all racing environments more inclusive.
The racing industry is, therefore, joining other sports and wider businesses in supporting Pride Month, commemorating the 50th anniversary of the start of the Pride movement. As part of the Racing For Everyone campaign, racing stakeholders are turning their social media profiles into a rainbow print from 28th June to 6th July. The Racing Foundation is proud to be supporting this campaign to provide the industry with an opportunity to consider how we can create a more inclusive environment and show that we are committed to creating racing for everyone.
For more about the campaign: https://www.britishhorseracing.com/racing-comes-together-to-be-racingwithpride/