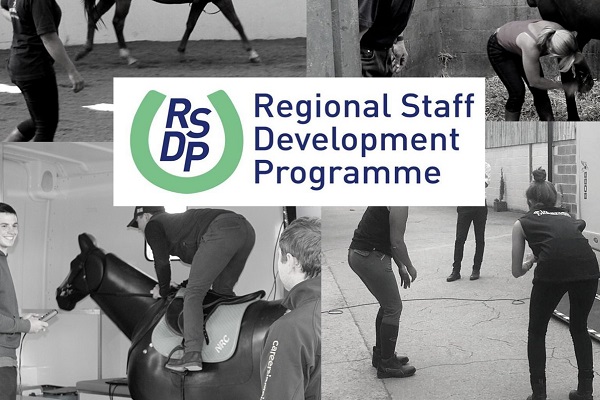 Training opportunities being offered in 2021 as part of the Regional Staff Development Programme
Thursday, 17 December 2020
The Racing Foundation provided seed funding for a number of accessible learning activities developed and delivered by the British Racing School and National Horseracing College during 2015-18. These were combined to create a Regional Staff Development Programme (RSDP), delivered jointly by both schools, which has been funded by the Racing Foundation during 2019 and 2020. This programme aims to provide training to over one third of racing's workforce to enable them to develop the horsemanship and life skills they need to enhance their career progression and encourage staff retention.
We are delighted to report that the programme goes from strength to strength and will offer many training opportunities in 2021, including:
Rider Coaches
The rider coaching element of the RSDP recognises that the best people to develop the horsemanship skills of junior and inexperienced stable staff are their experienced, senior work colleagues. By gaining an industry-recognised coaching qualification, these senior staff have been instrumental in developing the skills of those starting out in their racing career. Many Racehorse Trainers have now recognised the importance of having a yard-based Coach to develop talent and motivate those around them.
There are now 40 qualified rider coaches within the industry and the RSDP has ambitions to provide a support structure of coaches within every region of the UK. The qualified coaches form a coaching community, which enables them to share experiences and challenges, alongside attending vital CPD events, at a reduced cost. To train as a Racing Coach you simply need to be interested in developing the skills of others, be able to share your own experiences and participate in the training courses. These short courses are being provided regionally and to find out more, visit the Coaching section on Racing2Learn or contact Sam Trainor at S.Trainor@theNHC.co.uk
Regional Training
The team of Regional Training Coordinators, led by Sam Trainor, are planning an exciting programme of training courses, tutorials, workshops and presentations in 2021. Participation is free and the calendar of events intends to be informative, interesting and relevant to all those who work in racing. 2021 plans include:
• In partnership with Racing Welfare, working with a career coach to enhance your skills and understand how these skills can be transferable within the wider industry. We are delighted to be working with the Careers Advice and Training Service (CATS) on this project.
• Equine dentistry in a two-part series: 'Knowing your horse's mouth' and 'Common dental abnormalities'.
• Coaching-specific webinars, on developing yourself and your team, and mapping your coaching journey.
The 2020 webinars, which include presentations on the upper airway endoscopy of the horse, good coaching practice and confirmation and its effect on horse performance, are now available to view on Racing2Learn via the RSDP tile, by following this link.
The team are very keen to get input from those within the racing community on topics they feel would be beneficial for staff development. If you have any thoughts or ideas, please contact Sam Trainor at S.Trainor@theNHC.co.uk
To keep track of events scheduled in the New Year, follow the team on Facebook and twitter @regional_train