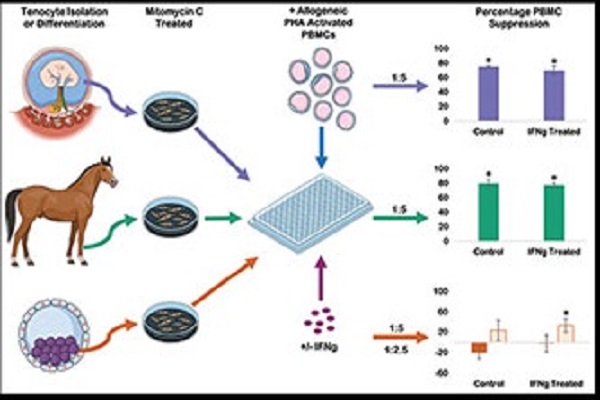 Papers published by equine science research project looking into using stem cells for tendon regeneration
Tuesday, 3 December 2019
In 2016, the Racing Foundation co-funded an equine science research project with the Horserace Betting Levy Board to enable Dr Debbie Guest, at the Animal Health Trust, to establish the safety of using allogenic equine embryonic stem cells for tendon regeneration.
Tendon injuries occur frequently in Thoroughbreds so looking at new ways of repairing tendons could have significant welfare and economic benefits to the racing industry. The research project aimed to test the thesis that Embryonic Stem Cells (ESCs) can be turned into tendon cells and be used to aid tendon repair. It looked specifically at whether using ESCs in horses unrelated to those from which they were derived may be rejected as foreign by the immune cells of recipient horses. Previous work had suggested that ESCs do not produce an immune response, but, before taking the next step towards using them for tendon repair, certainty was needed that such cells remain immune privileged and do not change their properties when exposed to the inflammatory environment which is present in an acutely injured tendon.
An established laboratory system was used to determine the immunological safety of the ESCs and support the clinical application of these cells. The project also aimed to further develop existing stem cell therapeutics with the potential to impact how injured racehorses are restored to race fitness.
We are delighted to report that this research has led to 2 published papers:
A novel mechanism for the protection of embryonic stem cell derived tenocytes from inflammatory cytokine interleukin 1 beta – view in full, here>
Equine Fetal, Adult, and Embryonic Stem Cell-Derived Tenocytes Are All Immune Privileged but Exhibit Different Immune Suppressive Properties In Vitro – view in full, here>
It has also led to the overall conclusion that ESCs may be safe to use in clinical transplantations to injured tendons of unrelated animals. With this in mind, we are delighted to also report that we are co-finding the next phase of the research with the HBLB via a new, 3-year grant. Dr Guest will now use the cell-based system to identify the genetic mechanisms behind fracture risk and analyse whether this predisposes some horses to fracture. The ultimate aim will be to determine whether fracture risk can be predicted and, if so, whether development of novel drugs and management strategies could help reduce the risk.
We look forward to reporting on the results of this research over the next few years.