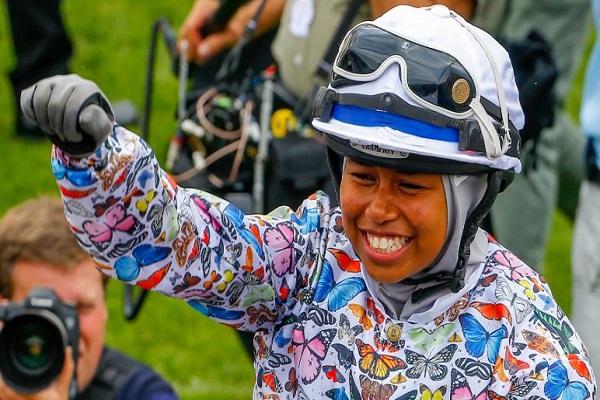 The Khadijah Mellah 'Riding a Dream' documentary generates a huge amount of publicity for the racing industry
Monday, 16 December 2019
The Riding a Dream project, supported by Great British Racing, the Racing Foundation and Goodwood Racecourse, follows the inspirational story of Khadijah Mellah, 18, from Peckham who made global headlines and sporting history by becoming the first British Muslim woman to ride in and win a British horse race (the Magnolia Cup).
Throughout, a film crew followed Khadijah's journey and the resulting documentary, Riding a Dream, was shown three times on ITV, including directly after the Rugby World Cup Final. Great British Racing developed a three phase PR plan to generate as much coverage as possible; support the documentary and position British racing as an inclusive sport which is open to all.
We are delighted to report that the media coverage generated by Riding a Dream has been phenomenal, and includes:
Over 2,000 pieces of global coverage (print, online, broadcast).
High profile London Premiere, attended by HRH Duchess of Cornwall, resulting in over 300 pieces of coverage.
Headline coverage including BBC Breakfast; Good Morning Britain x3; BBC Radio 2 Breakfast Show x2; BBC Radio 5 Live; BBC Radio 4 Woman's Hour; BBC World Service; BBC Asian Network; BBC 1Xtra; BBC London; BBC Radio Cambridgeshire; BBC Radio London; ITV News; ITV London; ITV Anglia; Sunday Times Style; Femail and Radio Times.
Additional nominations for Khadijah including successfully nominating her for The Sunday Times Young Sportswoman of the Year (which she won) and negotiating her involvement in Sunday's BBC Sports Personality of the Year programme.
Documentary shown three times on ITV including directly after the Rugby World Cup Final and subsequently on Monday 4th November and Saturday 16th November with a combined audience in excess of 2 million.
Over 5.2billion aggregate global readership of online and broadcast coverage.
International coverage - with 33% of coverage coming from India; Indonesia; UAE; Saudi Arabia; Turkey; France and USA, among others.
More than 5,000 Twitter posts mentioned 'Khadijah Mellah' with a potential reach of 183,343,095.