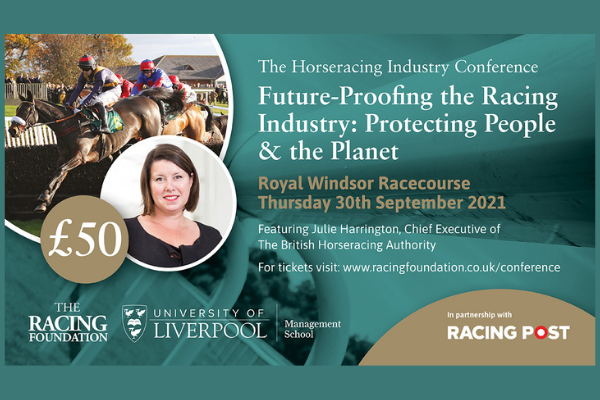 Julie Harrington to Deliver Keynote Address at Horseracing Industry Conference
Monday, 17 May 2021
The Racing Foundation is delighted to announce the annual Horseracing Industry Conference, delivered in partnership with University of Liverpool and The Racing Post, will be returning on Thursday, September 30 2021 at Royal Windsor Racecourse.
Keynote speakers include Chief Executive of The British Horseracing Authority Julie Harrington alongside other sector leaders and researchers. They will tackle the topic:
Future-Proofing the Racing Industry: Protecting People & the Planet
The in-person event, hosted by presenter Oli Bell, will be followed by an evening's racing which delegates will be encouraged to stay and enjoy.
Rob Hezel, chief executive of the Racing Foundation, said:
"We are pleased to be returning with an in-person event which will give delegates access to thought-provoking talks and panels and the opportunity to network with colleagues throughout the industry after a year where distance has defined us.
"The conference is typically attended by industry stakeholders, but anyone who is interested in engaging with the future of our sport is welcome."
Early bird tickets are now available to purchase for £50 and include access to the conference, lunch and dinner and a drinks reception. A full refund is guaranteed if the event is affected by coronavirus.
To book your space, visit www.racingfoundation.co.uk/conference