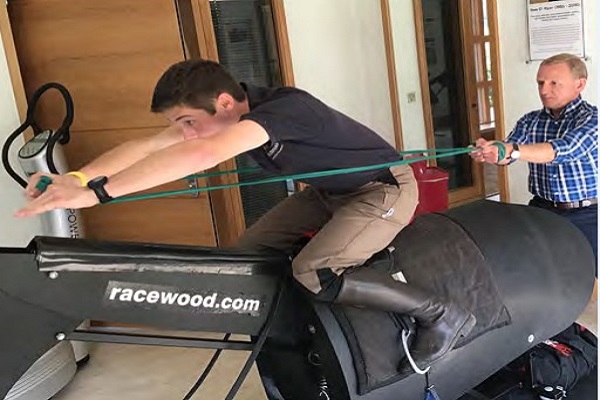 Jockey coaching enters a new era as the existing programme is expanded by the Jockey Development Manager
Wednesday, 16 December 2020


As part of a 5-year grant awarded by the Racing Foundation for the 'Jockey Athlete' initiative, support was provided, in particular, for jockey training and development. This includes contributing to the expansion of the existing Jockey Coaching Programme to extend its remit and coverage.
We are delighted to report that the new appointment of Joe Foley-Corah, earlier this year, as Jockey Development Manager has led to the formulation of a comprehensive jockey coaching strategy that will see the delivery of a number of additional services. These include:
• Creating a mentoring programme for female jockeys.
• Developing bespoke eLearning programmes for jockeys on Racing2Learn.
• Providing Jockey Coach Support for all apprentice and conditional jockeys, and course walks in advance of all Apprentice and Conditional-specific races.
• Course walks at Aintree and Cheltenham for jockeys inexperienced in riding around these courses, or over the Grand National fences.
• Providing regular drop-in coaching sessions at Injured Jockeys Fund (IJF) centres around the country for all jockeys, regardless of status.
• Regular review and development of the curriculum that aspiring jockeys undertake to obtain their licence, to ensure they are given the most current and up-to-date information on all areas relevant to professional jockeys.
• More engaging and interactive CPD opportunities for the team of Jockey Coaches, to keep their coaching tools sharp and effective.
• Creation of a formalised Talent ID and Development pathway that will provide a tangible route through from Riding Schools and Pony Racing to specialist Jockey training, while also aiming to reach different demographics and diversify the jockey population.
Joe is a former Apprentice Footballer and international Football Coach who was the Lead Qualifications Development Manager at 1st4sport for 12 years. He is a specialist in building frameworks in Coach Development, Athlete Development, and Talent Identification and has worked with various sporting bodies including the FA, the ECB, the BHA, the BEF, England Handball, Archery GB, British Rowing, Parkour UK, UK Coaching, British Wheelchair Basketball, GB Wheelchair and Rugby.
For more information, or to become involved in any of the above initiatives, please contact: Joe.Foley-Corah@brs.org.uk