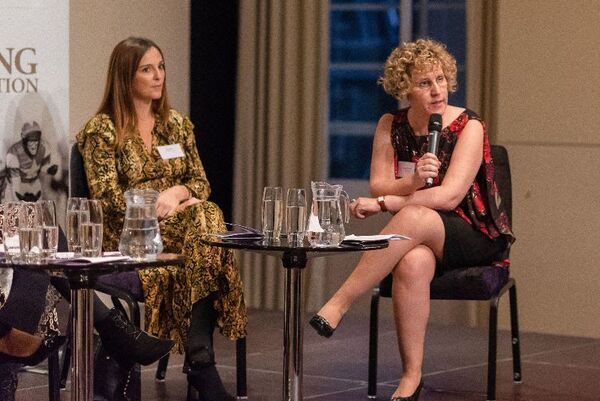 International Women's Day: Dena Merson explains how horse racing can be an industry for women to thrive
Thursday, 4 March 2021
With International Women's Day on Monday 8th March, it is the perfect time to consider how the horse racing industry can be somewhere for women's careers to thrive.
One person striving to make the industry a great place for women is Dena Merson. As a founding partner of consultancy firm Simply Racing, Dena set up the mentoring programme within Women in Racing and has also worked on The Racing Foundation funded Racing Home, a research project that examined what it feels like to be a working mother in the horseracing industry.
Speaking to The Racing Foundation, Dena explained how the industry can accommodate its female workforce and the importance of working together.
The Racing Foundation: Why is it important for the industry to make racing a great place for women to work?
Dena: A large percentage of the workforce are women: approximately 70% of those graduating racing colleges are women, women are on horseracing boards and in senior positions; jockeys who are women are in the limelight and we've got many outstanding female trainers.
We want to attract even more women into the sport and show them this is a wonderful place to have a career. And there are so many opportunities. Not only can you have a job in racing, you can have a career in it. The variation of opportunities is huge.
TRF: What does the industry need to do to get women into the industry and stay there?
Dena: There has to be a cultural mindset shift. It's happening already. We are a traditional sport and in the past that's been part of our attraction. But the world is changing. Women need to feel there are no barriers and I think the findings of the Racing Home research, which was funded by The Racing Foundation, proved that in order to retain women we need to make some changes in our working practices.
Conversations have to be taking place around things like parenthood; parenthood needs to be the norm and accepted in the industry, as do issues such as endometriosis and miscarriage. The ability to be able to talk about topics openly and putting measures in place to support women and families will stop women feeling they have to drop out of the working world of racing.
Also, flexibility is key. Covid has shown that flexibility in the workforce is possible and that has to stay beyond the pandemic. Employers and colleagues can't frown on people doing the school run for example, it should be a completely normal part of the working day. In reality, women might have challenges if they're pregnant, having a painful period or going through the menopause, which are too taboo to mention in many workplaces, but I think racing needs to take the lead in accepting them as normal.
The Diversity in Racing Steering Group is addressing these issues alongside addressing issues of diversity as a whole. At the moment in racing, we don't have a racially diverse workforce but we do have women. By changing the culture and getting it right for women, it makes it easier for us to get it right elsewhere and give us a more sustainable industry.
TRF: You set up the mentoring programme for Women in Racing. How did it start?
Dena: We got twenty of the most influential women across the racing industry into a room to create a mentoring programme that works. Out of those successful 20 women, just two had been mentored or coached. Although everyone agreed they would have got into their positions regardless of any coaching due to their drive, everyone agreed that mentoring helps you get there quicker. Our ambitions were for women to get into these positions of influence in their thirties and not wait until their forties or fifties and it is already happening.
TRF: What makes the mentoring programme a success?
Dena: The moment I knew the mentoring programme for Women in Racing had worked was when I was at a race meeting nine months into the programme. I was at Goodwood and there were a group of three women who had met through the mentoring programme. We kept bumping into more and more until there were 6 of us chatting and laughing over a bottle of champagne. A year before none of us knew each other. Six people from all different walks of life in all different parts of the industry. The sport doesn't realise what a positive effect that has had. We've created a network community and feeling like we're all in it together is so important.
TRF: Tell us about the mentoring workshop on International Women's Day.
It's a virtual event held over Zoom, so anyone can join. We want to make sure everyone knows that the programme exists! Classically, our workshops are about career progression and developing our mentors and mentees. This session is about mentoring as a life skill. Wellbeing is at the forefront of people's minds at the moment and this session will address that. Any man or woman is welcome, inside or outside of the industry. We are keen to get men on board as they can be real advocates of women in the workplace. In fact we are actively inviting men - we want them on side and speaking out about these challenges too.
Dena Merson will be hosting the Women in Racing mentoring workshop on Monday 8th March. For more information or to sign up for the virtual event please click here.