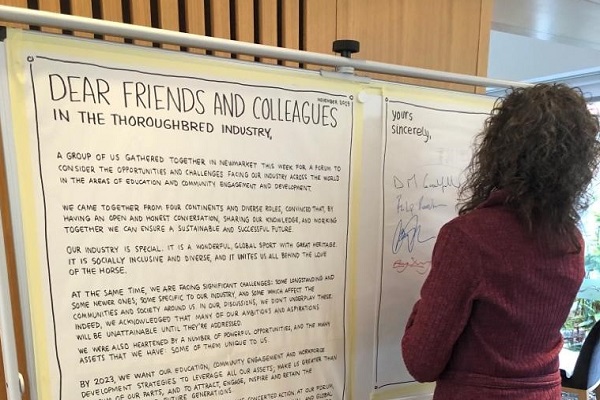 International delegates attend the Godolphin Forum for Education and Community Engagement
Monday, 25 November 2019
An ambitious plan to bring together representatives from the racing jurisdictions of Australia; France; Ireland; Japan; the USA and the UK came together last week by way of the Godolphin Forum for Education at Dalham Hall Stud in Newmarket.
The three-day event was set with the clear challenge to agree a global intention to prioritise the sport's investment in education and community engagement by pooling and using the assets available to the global sport.
At the end of the forum the group, including Racing Foundation Chief Executive, Rob Hezel, reflected on the impact of working alongside international colleagues and to relay their hopes for the combined work to form a plan to meet a Vision for how the sport will look to the wider world by 2023.
A pledge to build a collaborative future was set within an open letter to the Thoroughbred industry, approved and signed by the six countries and guest speakers. The idea is to hold to account the progress of the work and the shared vision to accept responsibility for the challenges of perception and participation:
Dalham Hall Stud, Newmarket, UK 20th – 22nd November 2019
Dear Friends and Colleagues in the Thoroughbred Industry,
A group of us gathered together in Newmarket this week for a forum to consider the opportunities and challenges facing our industry across the world in the areas of education and community engagement and development.
We came together from four continents and diverse roles, convinced that, by having an open and honest conversation, sharing our knowledge, and working together we can ensure a sustainable and successful future.
Our industry is special. It is a wonderful, global sport with great heritage. It is socially inclusive and diverse, and it unites us all behind the love of the horse.
At the same time, we are facing significant challenges: some longstanding and some newer ones; some specific to our industry, and some which affect the communities and society around us. In our discussions, we didn't underplay these. Indeed, we acknowledged that many of our ambitions and aspirations will be unattainable until they're addressed.
We were also heartened by a number of powerful opportunities, and the many assets that we have: some of them unique to us.
By 2023, we want our education, community engagement and workforce development strategies to leverage all our assets; to make us greater than the sum of our parts, and to attract, engage, inspire and retain the commitment of future generations.
To bring our vision to life, we need to take concerted action. At our forum, we have started the development of three-year plans at national and global levels, setting out how we aim to work together. These plans will be published early in 2020, but before then, a number of immediate actions have already been agreed, including the setting up of a global group to co-ordinate activities.
Perhaps the most important message that we wish to convey to you at this stage is that we have never felt more united in our determination to use education and development to enrich the lives of more people, and to engage them within our great industry. We urge you to join us, and to contribute your energy and assets to the achievement of our global vision and mission.
We will update you on progress by the end of March 2020, and we will make sure that our efforts are sustained until our vision becomes reality.
Yours sincerely, The Attendees of the Forum
Masahisa Arakawa, Japan
David Armstrong, UK
Cathal Beale, Ireland
Price Bell, USA
Remi Bellocq, USA
Brian Bergin, Ireland
John Blake, UK
Didier Budka, France
Elaine Burke, Ireland
Ed Chamberlin, UK
Olivier Delloye, France
Sandy Dudgeon, UK
Zoe Elliott, UK
Alice Fox-Pitt, UK
Philip Freedman, UK
Nick Froy, UK
Dawn Goodfellow, UK
John Gosden, UK
Cliodhna Guy, Ireland
Grant Harris, UK
Rob Hezel, UK
Rachel Hood, UK
Cate Johnson, USA
Penny Johnston, France
Dr Julia Sykes, Dubai
Shingo Kanzaki, Japan
Brian Kavanagh, Ireland
Clodagh Kavanagh, Ireland
Will Lambe, UK
Marin Le Cour Grandmaison, France
Charlie Liverton, UK
Lindy Maurice, Australia
Grainne Murphy, Ireland
Greg Nichols, Australia (absentee)
Cathy O'Meara, USA
Rio Obata, Japan
Bernhard Opitz, France
John Osborne, Ireland
Annamarie Phelps, UK
Tom Reilly, Australia (absentee)
Keith Rowe, Ireland
Nick Rust, UK
Amy Starkey, UK
Laura Winstanley, UK
Godolphin attendees
Hugh Anderson, UK
Liam O'Rourke, UK
Joe Osborne, Ireland
Diana Cooper, UK
Penny Taylor, UK
Ciara Devitt, Ireland
Lisa-Jane Graffard, France
Katie LaMonica, USA
Emma Ridley, Australia
Yasuko Sawai, Japan