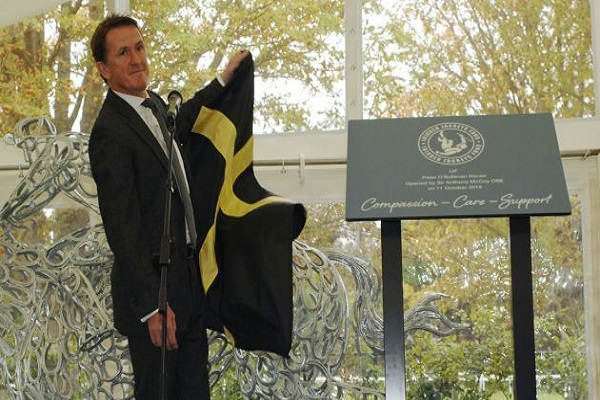 The Injured Jockeys Fund third rehabilitation centre is officially opened in Newmarket by Sir Anthony McCoy
Friday, 11 October 2019
The Racing Foundation has supported the development of an Injured Jockeys Fund (IJF) rehabilitation centre in Newmarket with a large grant, along with a number of other grant-making organisations, including The Peter O'Sullevan Charitable Trust, The Thompson Family Charitable Trust, The Alborada Trust, The Childwick Trust, The EBM Charitable Trust, The Paul Bush Foundation Trust, The Bernard Sunley Charitable Foundation and Godolphin.
We are delighted to announce that Peter O'Sullevan House was officially opened on 11th October by the IJF's President, Sir Anthony McCoy.
Based at the British Racing School in Newmarket, it is the third IJF rehabilitation and fitness centre. The £6 million development, which took 13 months to build, will complement the two existing IJF sites at Oaksey House in Lambourn and Jack Berry House in Malton.
The centre is equipped with physio treatment rooms, a comprehensive gym and a Hydroworx hydropool. The latter is key to any rehabilitation facility and is beneficial in treating a multitude of injuries with its underwater treadmill, massage hoses and performance-monitoring systems.
McCoy, president of the IJF, said:
"It's unbelievable that with the opening of Peter O'Sullevan House, we now have three rehabilitation and fitness centres around the country that help and support jockeys both during and after their careers. I can't tell you how lucky racing is to have this and how proud I am to be here today. If facilities like these had existed when I started riding, I might still be going today!"
In addition to McCoy, a stellar group of jockeys past and present were in attendance at the official opening, including Lester Piggott, Ryan Moore, Frankie Dettori, William Buick, Ted Durcan, Johnny Murtagh, Luke Morris and Hayley Turner.
Peter O'Sullevan House will become particularly valuable to jockeys in Newmarket and the eastern region in general who previously faced a long trek south or north to gain much needed access to one of the other two facilities. It will also be used by the many students attending racing industry courses at the British Racing School as well as stable staff referred for treatment by Racing Welfare.