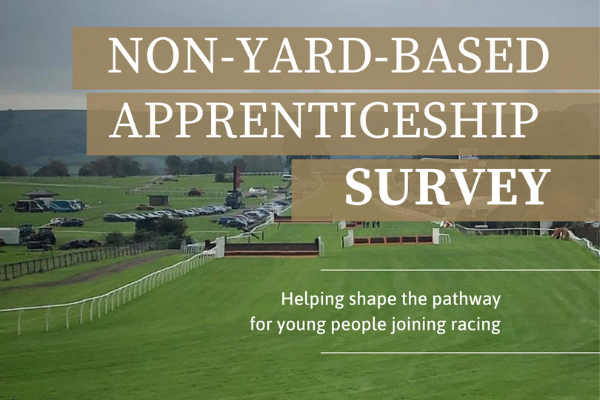 Horseracing employer survey released to understand the need for non-yard-based apprenticeship programmes
Wednesday, 3 November 2021
Racing employers will be encouraged to complete a survey to gain a better understanding of which apprenticeship pathways are required for individuals wishing to join the horseracing industry in a non-yard-based capacity.
The results of the survey, which is commissioned by the Racing Foundation, will help shape future employment pathways in roles such as marketing, human resources and land management for young people interested in working in racing.
The long-term plan for the project is to deliver a wider apprenticeship programme that will give young people more entry level job opportunities, deliver a better recruitment return on investment for employers, lower staff turnover levels and broaden the talent pool for racing's employers.
This industry-wide work is being conducted by a team of professional consultants led by Josh Apiafi. The apprenticeship project is being managed by Lee Moulson, former Head of Sales at The Jockey Club, who is working closely with the team at Careers in Racing.
The survey, which is intended for racing's employers, should not take longer than 10 minutes to complete and the deadline is Friday 19th November.
Rob Hezel, Chief Executive of the Racing Foundation, said: "Racing has a successful apprenticeship program for those wishing to join the industry working with horses.
"However, this survey will examine the need for a pathway for those roles that don't currently have a formal entry route into the industry.
"Ultimately we need to attract a more diverse workforce right across the industry and ensure they feel fully supported throughout their careers."
Josh Apiafi said: 'This survey is the first part of an overall strategy to ensure racing's future workforce and fan base is more diverse, inclusive and reflective of society, and that it is open to people from any background.
"I am grateful to the Racing Foundation for supporting these initiatives. The research is the first part of three projects to be launched.
"It will give us tangible results to build a collective pathway for non-yard-based apprenticeships in horseracing. The support from industry stakeholders in completing the questionnaire or passing it on to the relevant person within their organisations will ensure that we glean a thorough understanding of which apprenticeships are required."
The survey can be found at https://www.surveymonkey.co.uk/r/nonyardbasedapprenticeshipsurvey1