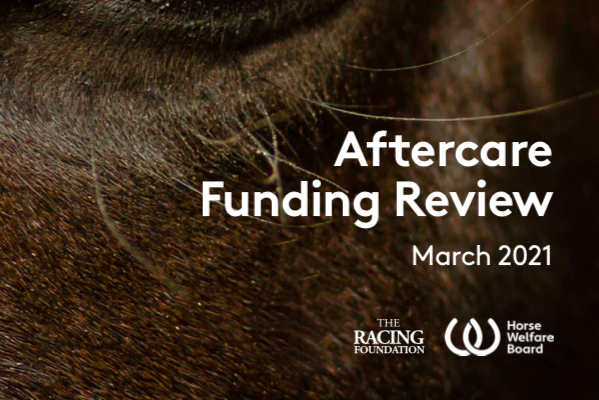 Horse Welfare Board's Aftercare Funding Review recommends strategic approach to aftercare
Thursday, 25 March 2021
The Horse Welfare Board has published its report into the funding and management of the racehorse aftercare sector with clear recommendations aimed at further improving outcomes for racehorses and equine welfare. The Review's recommendations focus on seven key areas to improve the aftercare sector: Funding; Focus and Integration; Traceability and data; Accreditation; Community; Education; Communication and are designed to cover any horse bred for racing.
The report has expanded beyond its original funding remit to ensure its recommendations properly accounted for wider sentiment regarding aftercare in racing. The project was fully funded by The Racing Foundation as part of their commitment to support horse welfare as a key area within the racing industry.
The report makes recommendations that will significantly reform the structure of aftercare provision and build trust in racing's equine welfare processes. The report recognises:
The need for one organisation to have strategic ownership of aftercare on behalf of the industry – and to work with racing's stakeholders and the aftercare sector to ensure there is a sustainable resourcing and funding model and mechanism in place to support the entire landscape. Following discussions with Retraining of Racehorses (RoR), it is believed that they are best placed to take on this expanded role.

For that strategic approach to follow the principle set out in the HWB strategy – the responsibility towards all horses bred for racing, with a particular focus initially on the first step away from the industry.

That this strategic approach requires strong join-up with all racing's major stakeholders, including with the breeding sector and with the developing work on lifetime traceability.

That the industry wants positive outcomes for its horses, recognises its responsibilities in this area, and would be strongly supportive of the changes RoR would need to make in order to take on that central strategy and delivery role.
Rob Hezel, Chief Executive of the Racing Foundation said: "At the Racing Foundation, our aim is to be a catalyst for change within the racing industry by giving grants where they can have the biggest impact.
The Racing Foundation are committed to support the Horse Welfare Board and the implementation of its strategy 'A Life Well Lived'.
We were pleased to fund the Aftercare Funding Review and welcome its publication.
We look forward to collaborating with the HWB, RoR and other stakeholders to ensure the recommendations within it are delivered in a timely manner."
The review of aftercare funding by the Horse Welfare Board was undertaken as part of recommendations made by the HWB's 'A Life Well Lived' strategy and focussed on ensuring the sustainability of racehorse aftercare. The project team responsible for the writing of the review reports to the Horse Welfare Board via an industry-resourced steering group.
The full Aftercare Funding Review report can be found here.
The Aftercare Funding Review recommendations can be found here.