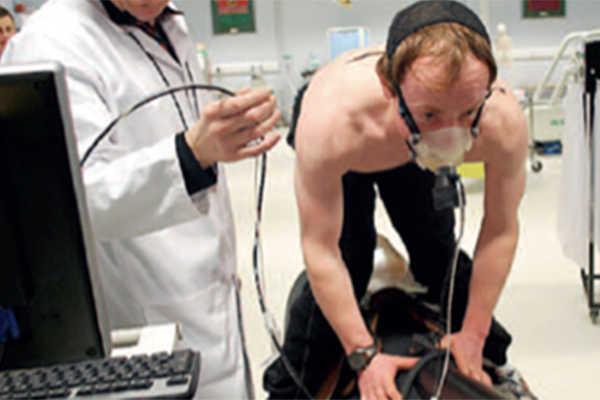 Free nutrition and fitness advice available for stable staff as well as jockeys
Tuesday, 6 August 2019
Racing Foundation funding of a nutritional intervention programme that could radically change the way Jockeys and Stable Staff control weight, is progressing well. The programme, developed by a specialist team at Liverpool John Moores University (LJMU) provides bespoke advice and guidance on healthy ways of making weight and improving fitness.
Results already achieved with a cohort of Jockeys are widely regarded as ground-breaking and revolutionary but the Racing Foundation grant means the free advice and support is now available to all Jockeys (including Apprentices and Conditionals) as well as Stable Staff who are required to ride-out. 
In addition to offering the facilities at LJMU to measure bone and body composition, hydration, metabolism and provide strength and fitness assessments, the team will provide workshops, tests and bespoke advice in the main racing centres across the country.
Good progress has been made, to date:
Dr Wilson has delivered a number of seminars in Middleham, Malton, Epsom, Newmarket, Doncaster (NRC) and the Scottish Borders.
He has produced and distributed nutritional posters and guidance for catering teams, including some racecourses.
He has been involved in talks with racing industry stakeholders about dietary improvements for staff in the industry.
He has been making yard visits across the country in which nutrition posters were put up in tack rooms, kitchens, breakfast areas and hostels.
Nearly 100 participants (jockeys and stable staff) have been to LJMU for baseline testing and received personalised nutritional and exercise plans devised from their base-line data.
Trainers are becoming engaged with the programme and have referred staff to LJMU and/or provide breakfast to staff in line with nutritional guidelines.
Dr Wilson has published several papers and has spoken at a number of conferences.
This project has also attracted a good level of media attention and coverage and Dr Wilson has given radio interviews as well as appearing on BBC Breakfast and BBC North West to talk about his research and work.
Anyone interested in learning how to control their weight whilst maintaining health and performance should contact Dr George Wilson via email: g.wilson1@ljmu.ac.uk.