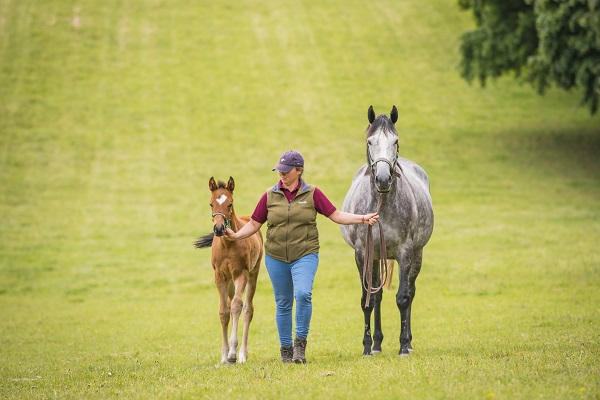 Findings of the Thoroughbred Breeding Industry Recruitment, Skills and Retention Survey 2019
Monday, 23 September 2019
The Racing Foundation, in association with the Thoroughbred Breeders' Association (TBA), commissioned Public Perspectives Ltd, an independent research organisation, to conduct a survey of studs about recruitment, skills and retention in the breeding industry. Similar surveys were also conducted with racehorse trainers and racing staff.
This survey was carried out from January to March 2019 and followed up on a baseline survey conducted in 2017 to help measure the impact of a number of activities being delivered as part of the Racing Foundation's multi-year funding of a cross-industry people development initiative that focuses on the areas recruitment, skills and retention.
In total, 161 studs responded to the survey, providing invaluable feedback on a range of issues. This represents a 50% response rate, which is at a similar level to the 2017 survey, which generated a 49% response rate.
Key findings from the 2019 survey indicate:
18% of all permanent posts in studs require recruitment activity annually, due to staff turnover or growth. This compares to 15% in 2017.
An estimated 49% of permanent vacancies are hard-to-fill, compared to 55% in 2017. The national figure, based on the UK Employer Skills Survey, is 33%.
The two main reasons for recruitment difficulties are a lack of staff and a lack of sufficiently skilled staff, especially stud hands and stud grooms.
20% of studs have retention difficulties, compared to 17% in 2017.
30% of studs said there are gaps in the skills or capabilities of their existing workforce. This compares to 26% in 2017.
The majority of studs (71%) are aware of the training and development initiatives in the industry yet only a minority have accessed them.
60% of studs have not funded or arranged any training in the past 12 months, compared with 54% in 2017.
The survey shows that recruitment, skills and retention issues continue to impact on the Thoroughbred breeding industry, with few notable or statistically significant changes since 2017. The issues appear more significant than the situation nationally and, with most metrics, broadly comparable to those in racing yards. This suggests industry activity to promote recruitment, retention and skills development continues to be relevant and important.
Recruitment of sufficient staff and adequately skilled staff stands out as key issues, with the stud hand and stud groom roles continuing to be the most problematic. In addition, a notable proportion of studs continue to experience retention difficulties, and therefore reducing the proportion of staff that leave their jobs and the industry should help reduce recruitment pressures. Some skills gaps also exist among existing staff and there is scope to increase the awareness and exposure of staff to training and development opportunities.
The Future
The Racing Foundation's funding has supported the development of existing activities and the implementation of new initiatives, with the aim of raising awareness of, and improving access to, an increasing number of training, education and recruitment opportunities. Whilst it may take time to change cultures, and for change to have a positive impact on recruitment and retention issues, from the recent surveys it seems that these initiatives are having less of an impact on stud staff than racing staff.
Consequently, a more strategic approach is required by the breeding industry to ensure improved training and development, increased recruitment initiatives and increased awareness of the activities and opportunities being offered, in order to enable Racing Foundation funding to have a more positive effect.
With this in mind, the Racing Foundation has been working with the Thoroughbred Breeders' Association to develop a 5-year strategic plan and has provided funding commitment of £569,752 for 2019-2023 to enable the TBA to focus on several key areas aimed at improving recruitment and retention in the breeding industry:
Development of a successful model for recruitment and training of a more diverse pool of new entrants.
Introduction of a Thoroughbred Breeding Industry Training and Qualification Pathway to provide a career development framework for stud employees from trainee stud hand to senior stud hand level.
Development of a Digital Engagement Strategy and Online Learning facility to improve reach, accessibility and inclusivity.
Development of a Breeding Industry Data and Research Capability to improve traceability, insight, longer term planning and impact analysis.
The Racing Foundation has also committed £3.9million to support Racing Welfare in delivering wellbeing activity over the next three years, including, the Careers Advice and Training Service (CATS), a full Occupational Health Service and the development of Mental Health Services. All of these activities will be offered to stud staff, as well as racing staff, with the aim of providing an all-encompassing, holistic service.
In addition, the grant period for the National Stud's regional training courses, offered nationally, has been extended to the end of 2019. The National Stud is also a partner in the new Regional Staff Development Programme funded by the Racing Foundation, and will work with the TBA to develop a structured programme of appropriate regional training across a range of subject areas beyond 2019.
A summary of the findings can be downloaded here>.
For a copy of the full survey report and findings please click here>.