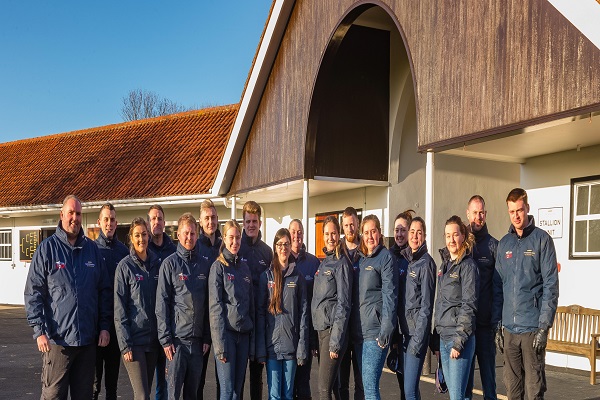 Entry to Stud Employment training course students celebrate their graduation at the National Stud
Friday, 13 December 2019
Students on the National Stud and TBA Entry to Stud Employment training programme (E2SE) graduated on 13th December following 9 weeks on this innovative programme. They are the first cohort of students following a 2-year pilot programme delivered in partnership with the TBA and Racing Foundation.
This year's course is the first of a five year commitment from the TBA and the Racing Foundation which has recruited 20 students, and forms part of a the Thoroughbred Breeding Industry Training and Qualifications Pathway (TBITQP).
The course was designed to open up access to the Thoroughbred breeding industry for people of all ages and experience and also meets the needs of employers who are looking for people with the basic skills to start working on a stud farm where they can be supported to develop their careers further.
It combines both practical stud work and theory giving students the chance to broaden their learning by visits to places such as Tattersalls, Newmarket Equine Hospital, Palace House, Dalham Hall Stud and Banstead Manor Farm. This is underpinned by lectures and practical workshops given by industry experts. After graduation students go on to complete a guaranteed 6 to 9 month placement on a UK stud farm and successful students gain an accredited Level 2 qualification in Horse Care.
This year students have come from industries as diverse as construction, mental health nursing and IT but all share a passion for horses and have walked away from their previous trades to pursue a career in the Thoroughbred industry. Ages range from 18 to 52 with students coming from England, Ireland and Poland.
Those graduating this year are Alex Cliffe, Alicja Tomaszewska, Calvin Cassar, Charlotte Hall, Chris Daffin, Ciaran Mulholland, Edina Lukacs, Francesca Gipps, Freya Shakespeare, Georgette Linger, Harriet Gray, Jack Cooper, Jamie Howarth, Kevin Jarvis, Lee Smith, Madeleine Beadle, Peter Wright, Rebecca Middleton, Rosie Gresinger, and Steven Widdows.
Interest in the E2SE programme continues to be strong and has already attracted applications for the October 2021 intake.
Caroline Turnbull, Education & Welfare Manager of the TBA, said:
"This year's students have proved to be an inspiring group; they have worked very hard and made great progress to develop their practical skills and knowledge. Many of them had no experience of handling horses, and yet at the end of nine weeks have handled all types of breeding stock on the stud, culminating in preparing mares and foals for December Sales and experiencing working at the sales."
"The TBA is extremely grateful to the Racing Foundation for co-funding the course and looks forward to following their progress."