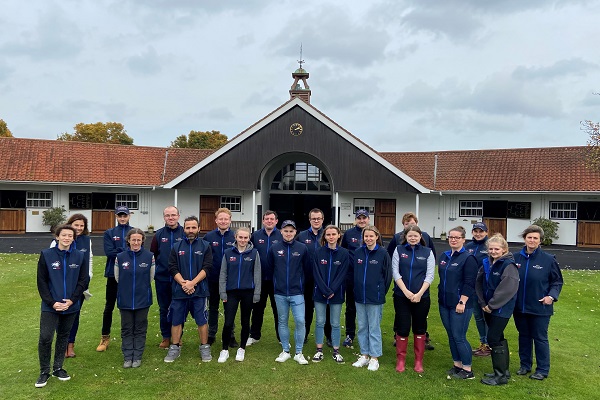 Students arrive at The National Stud for the Entry to Stud Employment 2020/1 course
Tuesday, 20 October 2020
20 students from across the UK and Ireland arrived at The National Stud this week to begin the 2020 Thoroughbred Breeders Association (TBA) Entry to Stud Employment Programme. The course, which is fully funded by the TBA and the Racing Foundation, is now in its second year and is open to applicants with little or no experience in working with horses. In the first nine weeks, students engage in practical work-based training alongside lectures and industry visits. Those successful in completing phase one will be invited to interview for a work placement at a UK stud farm where they will complete their Level 2 Diploma in Work Based Racehorse Care (Breeding Option).
"This course attracts students from a really diverse range of ages and backgrounds. Graduates from 2019 and previous pilot years are working at studs across the UK and we have had a strong level of applications again this year." said Stud Director Tim Lane "As with all activity this year we have put in place guidelines and restrictions to safeguard against Covid-19 and we will be monitoring these in line with guidance from government over the coming weeks."
Caroline Turnbull, Education & Welfare Manager at the TBA said "The TBA is delighted to welcome a new cohort of students to The National Stud for the E2SE course which was established to broaden access to the Thoroughbred breeding industry. In this challenging climate, it is particularly pleasing that students have committed to attending the course despite the restrictions imposed by Covid-19 requirements. We hope that they will enjoy the next 9 weeks and take full advantage of this chance to develop the skills and knowledge that will equip them to pursue a career in stud work."
Anyone wishing to apply for future courses or studs interested in being involved in the E2SE Programme should contact Anna Kerr or Fiona Dowling on 01638 663464.
For further information click here>.