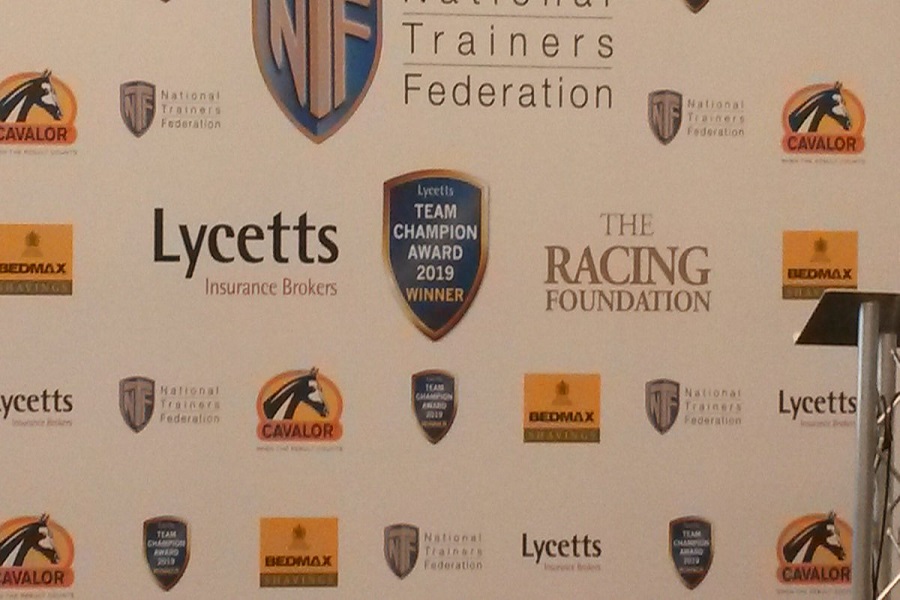 Congratulations to the winners and shortlisted Trainers for this year's Lycetts Team Champion Award
Friday, 1 March 2019
Jedd O'Keeffe and Tom Dascombe were announced yesterday (28th February) as the 2019 winners of the Lycetts Team Champion Award, which celebrates the British racehorse training yards with the highest standards of employee management.
The announcement was made at a ceremony at the Institute of Directors, Pall Mall, London, where the winning yards were presented with their trophy and awarded a £4,000 prize for each yard to benefit and support their teams.
The National Trainers Federation (NTF) and Lycetts Insurance Brokers created the Lycetts Team Champion Award, with support from the Racing Foundation, to:
Deliver praise and a sense of achievement for the racehorse training yards with the highest standards of employee management.
Showcase the positive results of developing a team that works well together.
Spread the message about safe working practices.
Improve recruitment and retention rates by promoting the most successful management practices and encouraging their wider adoption among racehorse trainers.
The assessment criteria for Lycetts Team Champion Award are based on The Winning Approach, a best practice standard developed for the NTF by consultants Sport and Beyond. They include effective recruitment and induction systems, a safe working environment, leadership, communication and management structures, developing staff to fulfil their potential, and rewarding achievement. Development of The Winning Approach and the award was funded by the Racing Foundation.
Yogi Breisner, renowned for his stellar accomplishments as a competitor and team leader in the field of Three Day Eventing, chaired the judging panel and presented the prizes. Commenting on the judges' experience of the awards and the assessment, Breisner said, "In this, the second year of the Lycetts Team Champion Award, it's very encouraging to see how a lot of trainers have embraced the concept of the Award and have upped their game and improved from the already high standard that we saw last year."
Rupert Arnold, Chief Executive of the NTF, said, "We received another very strong set of nominations for this second edition of the Lycetts Team Champion Award. Congratulations to this year's winners who set an amazing example but let's remember that there are now 52 trainers (10% of all licensed yards) who are accredited with a star rating to show their business operates to a recognised best practice standard for staff management. "
The competition saw 4 Trainers shortlisted in the two categories:
40+ horses: Andrew Balding; Tom Dascombe; Warren Greatrex; Richard Hughes;
Fewer than 40 horses: Nick Alexander; Dan Kubler; Jed O'Keeffe; Richard Phillips
It also saw 52 Trainers receive a star rating in recognition of the high standard of their employment practises.