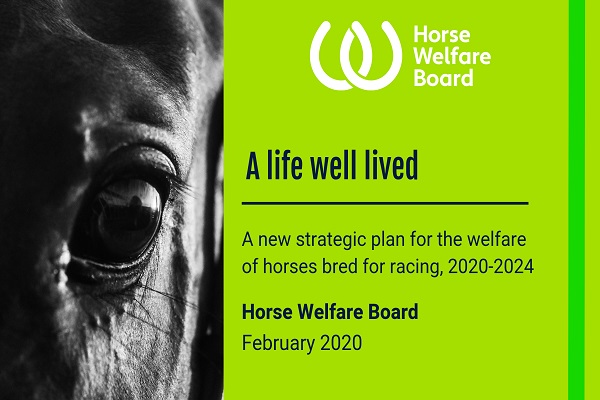 British racing's Horse Welfare Board publishes five-year welfare strategy
Thursday, 20 February 2020
British horseracing's Horse Welfare Board, which is independently chaired, has today published its five-year strategic plan for the welfare of horses bred for racing. The plan focuses on the vision that "Respect for the horse is at the heart of everything we do: Every horse bred for racing will enjoy a life well lived"
The strategy focuses on the ambition that every horse bred to race should lead – and be seen to lead – "a life well-lived" and includes traceability for horses bred for the sport, a strong focus on safety and wellbeing, a more confident and proactive approach to communications and the industry's biggest ever data project to prevent injury and manage safety.
The Board recognised that the sport is already focused on horse welfare and that numerous welfare strategies exist across the sport. Trainers, racecourses, jockeys, staff and more all play their part alongside a regulatory environment based on robust inspection, licensing and training. Together, this has made racing safer for horses and jockeys and all contributes to the high quality of life enjoyed by thoroughbred horses.
However, before today the sport did not have a single, overarching welfare strategy that coordinates the contributions made by all parts of the industry, with an ambitious vision for every horse bred to race. As such, it has the full support of the BHA and its members, representing competitors and racecourses.
20 recommendations and 26 specific projects were put before British racing's Members Committee.
The strategy focuses on four key outcomes:
Best possible QUALITY OF LIFE, relating to the encouragement and furthering of best practice in all aspects of health, care, husbandry and disease control.
Collective LIFETIME RESPONSIBILITY, incorporating, for example, traceability across the lifetimes of horses bred for racing, and initiatives fostering greater understanding, encouragement and effective enforcement of responsibility
Best possible SAFETY, the understanding and analysis of multiple risk factors and the continuing reduction of reasonably avoidable injuries and fatalities.
Growth and maintenance of public TRUST
The strategy also identifies the value of data in informing veterinary care and the prevention of injury and illness. It articulates the ethical case for horses' participation in sport and leisure and the need for better use of high-impact communications to tell racing's story. It also commits to develop a Code of Ethics to provide a transparent framework for decision-making around all aspects of a racehorse's care and wellbeing.
The Horse Welfare Board includes representatives from the sport's tripartite structure of the BHA, racecourses and horsemen. Its independent chair, Barry Johnson, is a former Chairman of World Horse Welfare and President of the Royal College of Veterinary Surgeons. Former Sports Minister, Tracey Crouch MP, is the other independent member. The development of the strategy was supported by funding from the Horserace Betting Levy Board (HBLB).
The Board also stressed that the strategy was just the beginning of a journey and it would evolve and develop over its five-year lifespan.
For more information please click here>
To see the summary document, click here>
To see the key recommendations, click here>
To download a pdf of the full strategy document, click here>