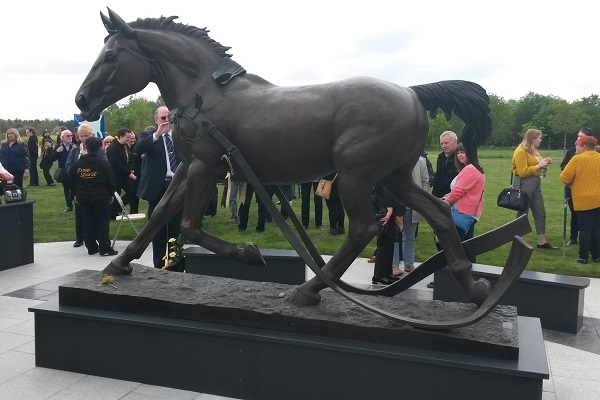 The amazing Free Spirit Horse Memorial is unveiled at the National Memorial Arboretum
Sunday, 19 May 2019
The Racing Foundation was delighted to attend the official unveiling of the Free Spirit Horse Memorial at the National Memorial Arboretum in Staffordshire, on Sunday 19th May.
Back in 2017, we awarded a small grant under our Heritage & Culture programme, towards this unique project celebrating the partnership between horse and human. Given that those involved in racing share a passion for the Thoroughbred horse and to acknowledge the crucial role it plays in our sport, we felt it was fitting for the horseracing industry to contribute to the project. We were joined in this support by the Peter O'Sullevan Trust, racehorse owner, Simon Clarke, Tattersalls and Uttoxeter Racecourse. We were also joined by donors from across other sectors of equestrianism and the military.
The Free Spirit project was originally launched through an art competition that received 500 entries from youngsters across the country, all of whom submitted drawings, paintings and 3-D artwork reflecting the bond between human and horse in history, work, sport, leisure and rehabilitation of the sick and disabled. Winners were announced at a launch event at Aintree Racecourse and work started on a bronze maquette of the overall winning design by award winning sculptress, Georgie Welch, who then produced the life-sized statue.
A fundraising campaign was undertaken by a number of community and youth groups, led by Gartmore Riding School, in Staffordshire, which provides a range of equestrian opportunities for youngsters with physical and learning disabilities. Thanks to their amazing efforts the project came to fruition two years later.
The National Memorial Arboretum is home to 320 memorials and hosts 500,000 visitors each year. The Free Spirit Horse Memorial will be a permanent feature.